About waterbodies beyond WWALS Watersheds in the same Suwannee River Basin.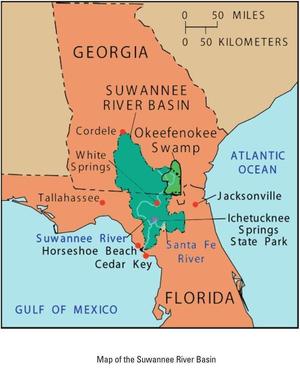 See:
A few issues that cross state lines and organizational boundaries within the Basin:
the chronic Valdosta and Lowndes County wastewater leak problems,
the Army Corps of Engineers flooding study,
drought and flooding issues in general,
hydrogeology of the karst limestone underlying our rivers
and containing the Floridan Aquifer,
water bottling plants (Nestle recruits employees from Valdosta and points north for its Madison bottling plant),
the Cody Scarp and its sinks for the Alapaha, Santa Fe, and other rivers,
and the proposed Sabal Trail methane pipeline.
South Georgia, north Florida
This is part of WWALS territory. See
entry in maps page
.
This is part of WWALS territory
since December 20, 2016
.