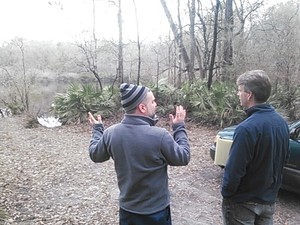 Yesterday Prof. Don Thieme, WWALS member Dan Coleman, and I showed a reporter around some sinkholes near the Withlacoochee River, including one that's been there for decades, leaking into the Floridan Aquifer, and one that opened up within a couple of months only a few years ago.
Dan Coleman says Shadrick Sinkhole has been there probably at least 40 years, and that there are actually at least two sinkholes at the bottom of the area currently filled with water. He says there used to be a cave you could walk into twenty feet, with a sinkhole at the bottom of it. This is on Lowndes County-owned land, parcel 0072 023, off of River Chase Drive, off of Val Del Road. That whole sinkhole pond appears to cover about 2.5 acres.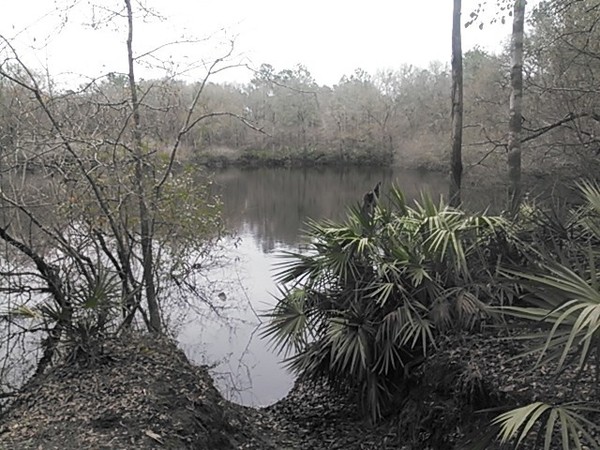 Shadrick Sinkhole, 30.903927, -83.313544
Here's a slough of the Withlacoochee River. This whole area is flood plain, which can be completely underwater in a flood such as happened in 2009.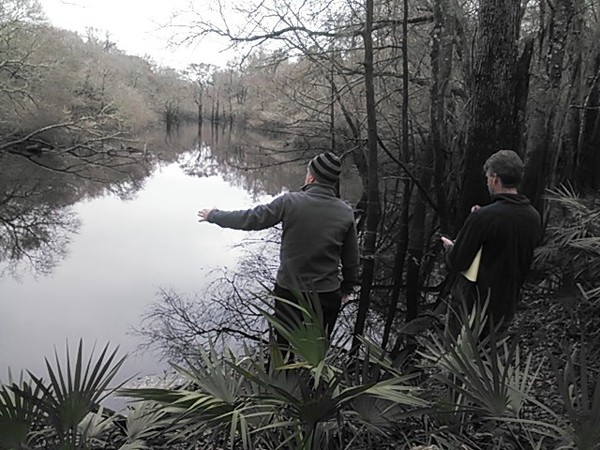 Withlacoochee River slough 30.904201, -83.311574
Here's the Cherry Creek Sink that Prof. Don Thieme showed and described to WWALS 9 October 2013. This is where WCTV's Winnie Wright reported 26 November 2014 about Sabal Trail Transmission's reaction to item 9 in the the Georgia Water Coalition 2014, which was about Sabal Trail's proposed fracked methane pipeline threatening our water partly due to drilling under the Withlacoochee River and risking more sinkholes like this. See sinkhole formation and collapse due to drilling under the Withlacoochee River in a hydrogeology report by geologist David Brown about the same kind of geology in Florida on the same river.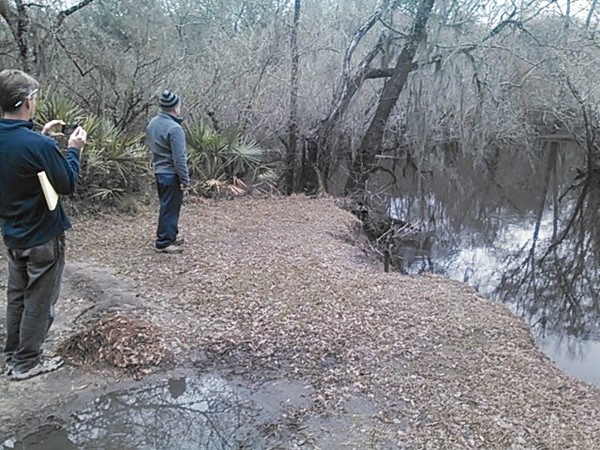 Cherry Creek Sink full of water 30.902192, -83.312247
And here's the WWALS banner at the Cherry Creek Sink. Dan Coleman said his family used to own this parcel, and this is exactly where they used to swim when he was a child.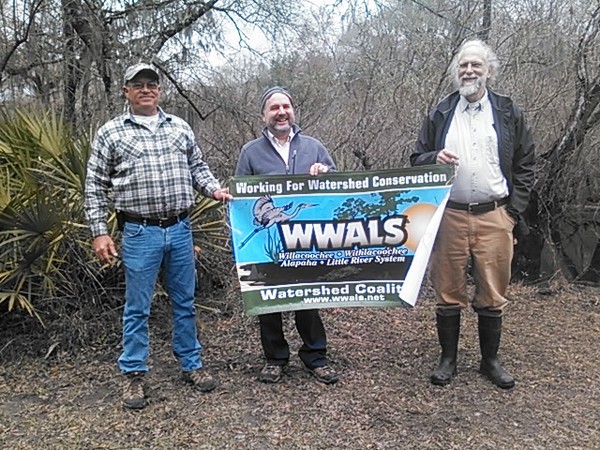 Dan Coleman, Don Thieme, John S. Quarterman, WWALS banner at Cherry Creek Sink 30.902187, -83.31217
-jsq
Short Link: