Come to Live Oak, Florida next Friday to see a movie and a panel discussion about Sierra Club's Beyond Coal campaign, which was instrumental in promoting solar power in Georgia, in closing coal plants, and now in dealing with coal ash. WWALS Executive Director Gretchen Quarterman will be on the panel. Thanks to SSJSCNFWG for organizing this.
When: June 9, 2017 Doors open 6:00 pm Film starts at 7:00 pm
Where: Live Oak Woman's Club
1308 11th Street SW, Live Oak, Fl 32064
Free Admission and Refreshments
What: An advanced screening of the new documentary film "From The Ashes" followed by a panel discussion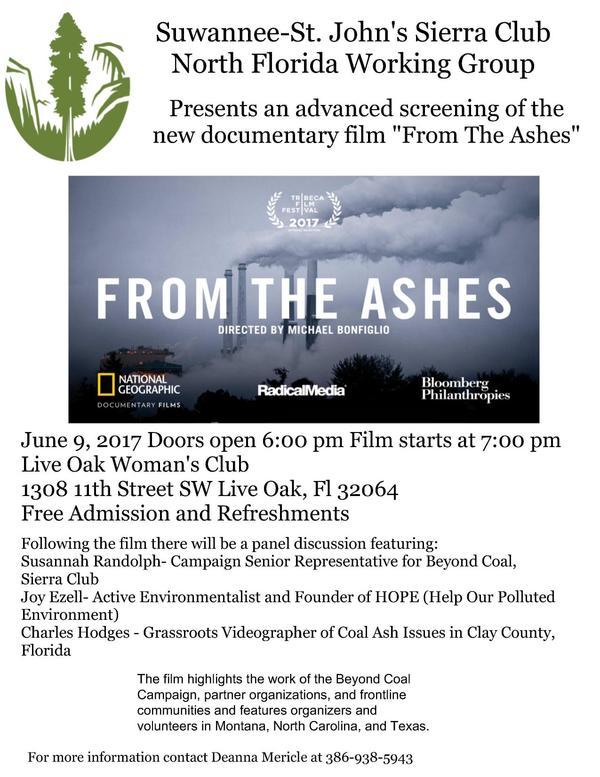 Organized By:
Suwannee-St. John's Sierra Club
North Florida Working Group
Following the film there will be a panel discussion featuring:
Susannah Randolph: Campaign Senior Representative for Beyond Coal, Sierra Club
Joy Ezell: Active Environmentalist and Founder of HOPE (Help Our Polluted Environment)
Charles Hodges: Grassroots Videographer of Coal Ash Issues in Clay County, Florida
Gretchen Quarterman, Executive Director, WWALS Watershed Coalition (Suwannee Riverkeeper), about nature doesn't mind state boundaries and we should get on with renewable sources of energy.
The film highlights the work of the Beyond Coal Campaign, partner organizations, and frontline communities and features organizers and volunteers in Montana, North Carolina, and Texas.
Contact
For more information contact Deanna Mericle at 386-938-5943. She notes:
"The movie is not just about coal ash, although that is a component. It is about the social and economic impacts and the environmental and health benefits of moving away from coal energy."
-jsq, John S. Quarterman, Suwannee RIVERKEEPER®
You can join this fun and work by becoming a WWALS member today!
Short Link: