Valdosta had one spill at a lift station that lost power during Tropical Storm Irma, said David Frost, Interim Utilities Director, City of Valdosta, when I called him just now. I asked him if there were any others, and he said there was just that one.
He said it was a small spill. I asked how small. He said 900 gallons, which is small compared to almost all previous Valdosta spills.
In characteristic south Georgia fashion, he described the location as past the McDonald's, next to the old Goodyear, which he said he thought was now A&M Auto Services, at Cherry Creek. That can only be at the Valdosta-owned Parcel 0146A-094G at 4119 B Bemiss Road, pictured above.
I congratulated Interim Director Frost on no spills at Valdosta's wastewater treatment plants, and only one spill elsewhere, fewer than before. I also noted that people downstream were still not going to be happy.
As you can see on the above Lowndes County Tax Assessors map, that lift station is right next to Cherry Creek, which runs into the Withlacoochee River, then into the Suwannee.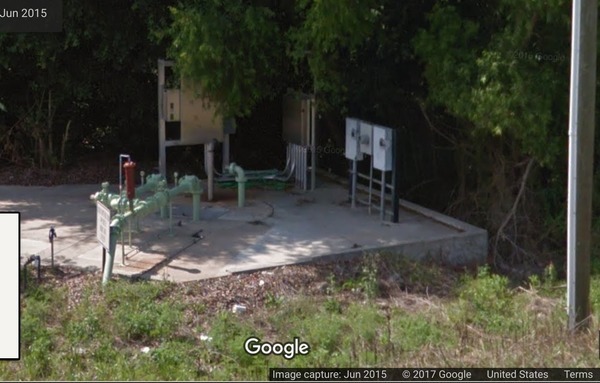 Google Street View, June 2015, Valdosta Cherry Creek Lift Station, 4119 B Bemiss Road
This is not one of the usual locations. I can't find any mention of a previous spill at this lift station, although such information is not kept by Valdosta in any online searchable database. However, there are reports from passers-by of much work there this year, and that lift station frequently smelling like sewage.
I can say less than a thousand gallons is decidedly less than the usual thousands or tens of thousands of gallons in previous manhole cover spills, and of course far less than the millions of gallons from the WWTP back in January.
Two differences this time are that I got updates from Valdosta with a day of the storm, and this time there were no spills from either Valdosta wastewater treatment plant.
Any spill is likely to trigger a Florida Department of Health warning for the WIthlacoochee River, and maybe the Suwannee River. We shall see whether this was a big enough spill to do that.
Meanwhile, Henry Hicks has retired, and Darryl Muse starts as new Valdosta Utilities Director Monday 18 September 2017. Until then, David Frost is the man in charge.
As previously mentioned, I have a request in to GA DNR for information about any spills by any city, county, or other wastewater facility in the Suwannee River Basin in Georgia. I am also attempting to get Florida DEP to divulge similar information.
-jsq, John S. Quarterman, Suwannee RIVERKEEPER®
You can join this fun and work by becoming a WWALS member today!
Short Link: