Yesterday FERC rubberstamped Sabal Trail's five-month construction delay, but that same day the DC Circuit Court rejected all arguments by FERC and the pipeline company, and could mandate vacating the pipeline's permit next week. Meanwhile, Sabal Trail already has been shut down, shipping mostly zero gas since mid-November, when it apparently lost one of its only two customers.
According to an industry publication the case by Sierra Club, Flint Riverkeeper, and Chattahoochee Riverkeeper is "the strongest legal rebuke of FERC's oversight since the rush to build out natural gas pipelines began several years ago" and "a pivotal moment in the evolution of pipeline opposition and broader climate accountability."
How much delay, lack of gas, loss of customers, and legal setback does it take for a pipeline's financial backers to pull the plug? Reject, shut off, and revoke. Then go solar, like even Duke Energy is doing in Florida, starting with Hamilton County!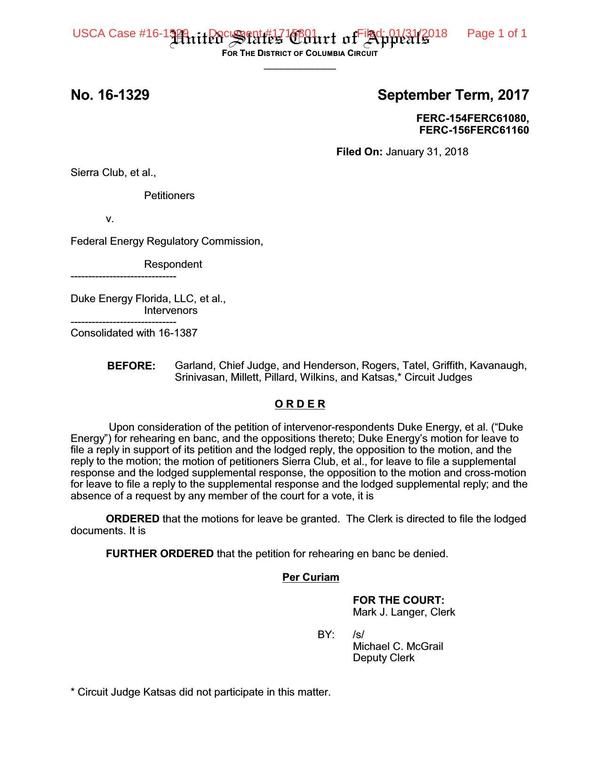 D.C. Circuit Court January 31, 2018, order denying petition for rehearing en banc.
Ellen M. Gilmer, E&E News, 1 February 2018, D.C. Circuit ruling could shut down pipeline, Continue reading →