Daily Archives:
February 7, 2018
One of our goals Wednesday in Tallahassee was accomplished: the fracking ban is moving in the Florida statehouse! You can help: call your Florida state Representative or Senator and ask them to vote for the fracking bills. If you don't know who they are, you can use Florida's Find Your Legislators.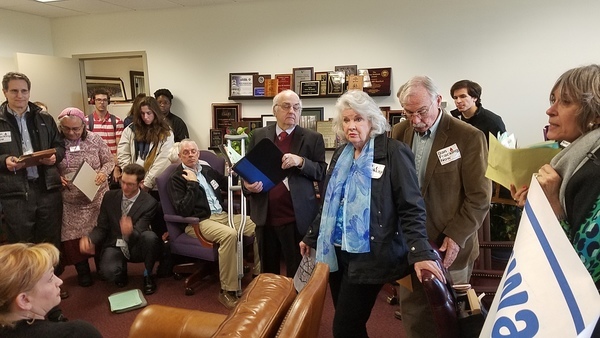 Photo: John S. Quarterman for WWALS, Tallahassee, 2018-01-31. Do Gale Dickert and these people look like they're going to give up easily?
Monday SB 462 was uananimously approved by the Senate Environmental Preservation and Conservation Committee, thank you Committee Chair Senator Rob Bradley, whom many people intensively lobbied last Wednesday to schedule a vote in that committee. The indefatigable Continue reading →
HR 158 may be scheduled for a vote in the Georgia House as soon as tomorrow. Help dedicate state fees to their intended purposes: please contact your Georgia House Representative or Georgia State Senator (follow the links for contact information) and ask them to pass HR 158. If you don't know who your Georgia Representative or Senator are, see Georgia My Voter Page.
Hahira is the most recent of six local governments representing the majority of the population in the Suwannee River Basin in Georgia, in five Georgia House districts and two Senate districts, that have passed a resolution supporting Georgia HR 158 against state fee diversions, with five stories and an editorial in the biggest circulation newspaper in the Basin. More local resolutions passed elsewhere in the state, but that ain't bad for the Suwannee River Basin.
2018-01-08 Lanier County, House District 176 (Jason Shaw), Senate District 8 (Ellis Black) Continue reading