Court mandate delayed because of FERC crying wolf, even though Sabal Trail has been shut down most of the past six, now seven weeks. So the three little pigs get a temporary reprieve from the Big Bad Wolf of sun and wind power.
Gavin Bade, E&E News, Feb. 8, 2018, Court filings stave off Sabal Trail pipeline shutdown, for now,
But Wednesday came and went this week with no word from the court.

E&E reports that may be because judges need time to consider some last-minute filings in the case.
What are FERC and Sabal Trail so scared of? The wind and the sun:
'Then I'll huff, and I'll puff, and I'll blow your house in.'

So he huffed, and he puffed, and he blew his house in, and ate up the little pig.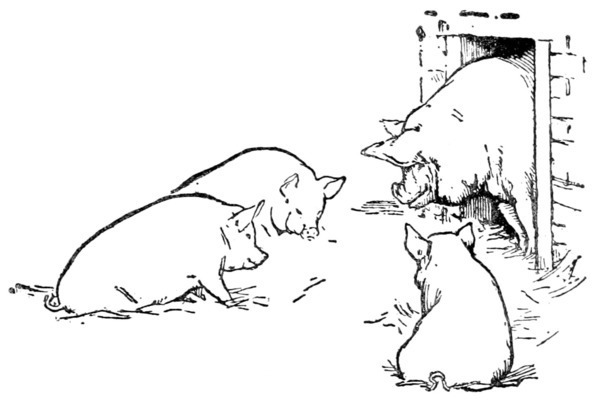 Illustration for The Story of the Three Little Pigs, in English Fairy Tales, Joseph Jacobs, 1895 New York: Grosset & Dunlap (2nd edition?) Boston Public Library.
For the entire four years since the Sabal Trail pipeline was first announced in 2013, renewable energy has produced more new U.S. energy than natural gas, according to FERC's own Office of Energy Projects Energy Infrastructure Update For December 2017. Those are the wolves after those poor little piggy pipeline Applicants: solar and wind power. It turns out regulatory capture (FERC brags that it is 100% funded by fees and charges on the same companies it supposedly "regulates") and guaranteed utility profits are straw before the economic wind of renewable energy.
Ellen M. Gilmer, E&E News, February 8, 2018 , Pipeline shutdown battle set to continue,
Supporters and opponents of the Sabal Trail pipeline and related projects in the Southeast are settling in for another couple of volleys of legal filings, an anticlimactic turn after the project appeared poised to shut down this week.
The story describes the FERC cry of wolf we wrote about yesterday, and says those "eleventh-hour court filings pleading for more time" slow down the Court by a few weeks. The story continues:
The Sierra Club, which filed the underlying lawsuit challenging Sabal Trail, will submit a response to the filings by next Friday. Attorneys for the environmental group say the Federal Energy Regulatory Commission is trying to sidestep a 2017 court order that required the agency to take a closer look at climate impacts.

"The court's order was clear: FERC must re-analyze the threats this Project poses to our air and climate to determine whether re-issuing a Certificate is appropriate and on what terms," managing attorney Eric Huber said in a statement. "FERC's analysis that concluded the greenhouse gas emissions of this Project were not significant is not sufficient. We trust the Court will reject FERC's latest efforts to keep this fracked gas pipeline open."

After the Sierra Club files its opposition, FERC and pipeline backers Spectra Energy Partners LP, NextEra Energy Inc. and Duke Energy Corp. will have a chance to respond before the court issues its decision on whether to grant a 45-day stay of the mandate, as FERC requested, a 90-day reprieve, as the pipeline companies requested, or neither.
The story then spells out that FERC and Sabal Trail and its affiliates hope the delay will give FERC time to "save the project".
As we pointed out yesterday, there is no need for this pipeline, and shutting it down can't do much harm considering it has been shut down much of the past six weeks.
Make that seven weeks, because despite Greenwire's assertion yesterday that "The Sabal Trail pipeline won't shut down today." according to Sabal Trail's own FERC-required Informational postings, Sabal Trail is shut down again today, shipping zero gas.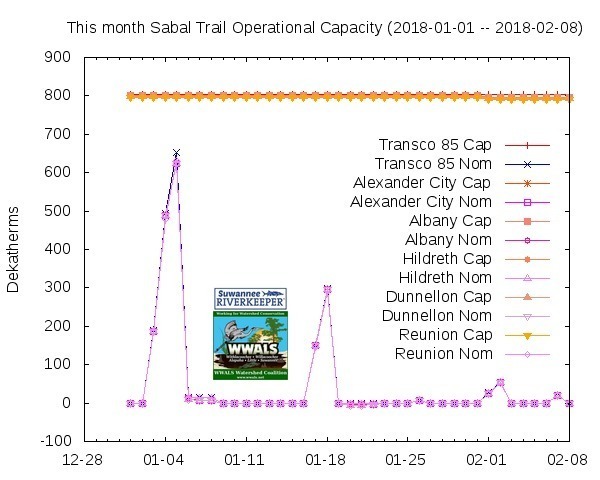 Still looking forward to that mandate, DC Circuit Court.
-jsq, John S. Quarterman, Suwannee RIVERKEEPER®
You can join this fun and work by becoming a WWALS member today!
Short Link: