You can help oppose Nestlé's water withdrawals from the Floridan Aquifer, at the next Suwannee River Water Management District (SRWMD) board meeting in Live Oak.
You can sign one of many petitions, such as one by SumOfUs.
Even better, you can come object to that extension. I ask people to come to every SRWMD board meeting, and maybe you can make this one.
Best, you can file a comment with SRWMD.
When: 9:00 AM, Tuesday, December 20 10, 2019
Where: SRWMD Headquarters, 9225 County Road 49, Live Oak, FL 32060-7056
What: SRWMD Board meeting
You can also ask SRWMD to review Nestlé's withdrawal permit at Madison Blue Spring on the Withlacoochee River.
These are Nestlé's landholdings next to Madison Blue Spring, according to the Madison County Property Appraiser:
For comparison, this little bit on the Withlacoochee River is Madison Blue Spring State Park, smaller than Nestlé's main bottling plant.
Nestlé paid all of $230 for that Madison Blue Spring permit back in 2008. Sure, they also pay $70,000 a year to support water quality monitoring at Madison Blue Spring and the Withlacoochee River. But that's peanuts compared to the profits Nestlé must be making, the drawdown to the Floridan Aquifer and the springs, and its plastic bottles we all have to clean up from the springs and rivers.
Ivan Penn, St. Petersburg Times, ORLANDO SENTINEL, 30 March 2008, Bottler takes millions of gallons of water for $230
Nestle came into Florida and managed to pull off quite the coup.

The company got a permit to take water belonging to Floridians — hundreds of millions of gallons a year from a spring in a state park at no cost to Nestle.

No taxes. No fees. Just a $230 permit to pump water until 2018.

Nestle bottles that water, ships it throughout the Southeast — much of it to Georgia and the Carolinas — and makes millions upon millions of dollars in profits on it.

The state granted Nestle permission to draw so much water against the strong recommendation of the local water-management district staff. Because drought conditions were stressing the Madison Blue Spring, the staff said the amount of water drawn on the permit should be cut by more than two-thirds….
Nestlé of course claims the magic words jobs and tax benefits. Are those really enough benefit to the state of Florida, the county of Madison, or the people, to outweigh the ill effects on Madison Blue Spring, the Withlacoochee River, or the Floridan Aquifer?
As so often with such promises, not as many jobs materialized as promised:
Nestle had promised to create 300 jobs over five years. The most people it has ever employed was about 250. The number dropped to 205 late last year, 46 of them from Georgia, which Nestle defends as common for a work force along a state line.
Indeed, many of those Georgians live in Lowndes County, many in Valdosta, where the spring at Barber Pool long since dried up. That is probably due to water withdrawals, such as SRWMD documented in the North Florida Regional Water Supply Plan.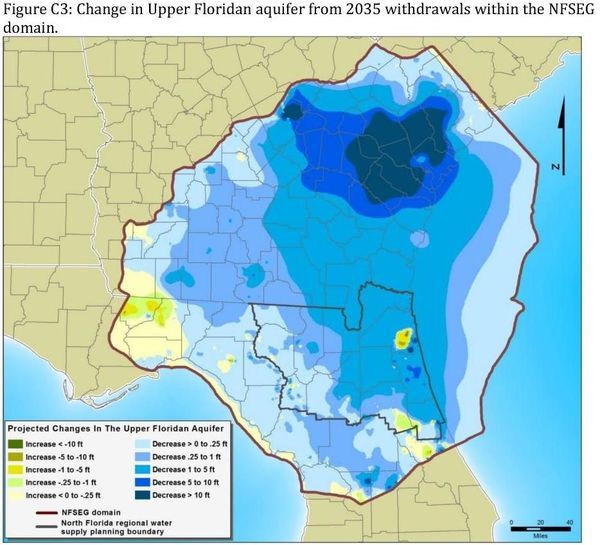 There must be better ways to provide jobs related to rivers and springs than selling massive quantities of water to a foreign company so it can sell the water back to us in plastic bottles.
How did this happen?
But by the time Nestle was ready to close its deal with Blanchard, the staff at the Suwannee River Water Management District, which oversees the Madison Blue Spring, recommended several permits related to the spring be revoked or changed.

Part of the concern was about speculation on selling permits for big money, and part of it was about drought.

In a memo dated Nov. 15, 2002, the water-management district staff recommended reducing the amount of water Nestle could draw under the permit it would obtain from 1.47 million gallons a day to 400,000 a day.

Historically, the average flow of the spring is 55 million gallons a day, but it was down to 34 million gallons a day.

In January 2003, the governing board — gubernatorial appointees who make final decisions about water use — heard Nestle's pitch to continue the permit as originally approved.

The company promised to invest $100 million in the plant over seven years and create 300 jobs — but only if the permit remained as it had been when first approved for [former private landowner] Bruic.

Nestle had a key ally at the meeting: the state of Florida, in the form of the economic-development entity Enterprise Florida Inc.

To the disappointment of those working to protect the springs, Nestle got its wish….

Jeb Bush, who was governor at the time, did not respond to questions about Nestle's Madison County operations.
What about current Florida governor Ron DeSantis? Maybe we should all ask him about these sweetheart deals to Swiss company Nestlé for Floridan Aquifer water.
At the very least, we should all ask the Governor to finish appointing the SRWMD Board, including Dennis James Price for the vacant Upper Suwannee Basin seat (including the Withlacoochee and Alapaha Rivers in Florida), and Merrillee Malwitz-Jipson for the Santa Fe & Waccassa Basins seat. You can write to the Florida Appointments Office.
SRWMD will probably actually decide the Ginnie Springs permit request at one of its early 2020 meetings, on January 14th or February 11th, both Tuesdays.
But don't wait until then. Act now, please.
And you can paddle with us to Ginnie Springs on the Santa Fe River, February 1 and 2, 2020.
-jsq, John S. Quarterman, Suwannee RIVERKEEPER®
You can join this fun and work by becoming a WWALS member today!
Short Link: