On the same day the Florida Department of Environmental Protection (FDEP) filed a notice of intent to issue a permit for a new titanium mine on Trail Ridge in Bradford County, Florida, the Sierra Club posted an action alert for people to ask what does Chemours intend to do about the Twin Pines Minerals mining application within three miles of the Okefenokee Swamp in Charlton County, Georgia?
You can use the Sierra Club Action to ask Chemours to disavow any interest in that Twin Pines Minerals mine or site.
https://act.sierraclub.org/actions/Georgia?actionId=AR0326624
Georgia Governor Brian Kemp welcomed yet another Chemours mine to Georgia just last fall, yet the day before these two events he refused to state an opinion on the proposed mine next to the Okefenokee Swamp. You can ask him to speak up against it, by using the Waterkeeper Alliance Action Alert, which will send a message to the Georgia Environmental Protection Division (GA-EPD) and Georgia elected officials asking them to reject the permit applications for that site.
https://wwals.net/?p=55092

Map of mines on Trail Ridge, Twin Pines Minerals, Chemours
The Twin Pines Minerals proposed mine site is in the middle right of this map, barely southeast of the Swamp, south of Chemours Mission Mine North and Mission Mine South in Georgia, and north of a string of Chemours mines in north Florida, with the new Chemours Trail Ridge South Mine indicated at the bottom end of that row.
Why would Chemours not be interested in a mine in the middle of Trail Ridge, where Twin Pines Minerals has said the mining is the most convenient?

Map: Trail Ridge Mines
in the WWALS map of all public landings in the Suwannee River Basin.
The Okefenokee Swamp is the headwaters of the St. Marys and Suwannee Rivers. The Suwannee drains the vast majority of the Swamp's waters, including most of the southern part of the Swamp. There is no wall between the two river basins, so anything that gets into the Swamp, either from runoff or underground from water wells or mining, could affect the Suwannee River of the Florida state song.

WWALS map: All Landings in the Suwannee River Basin
Here is what Sierra Club posted on that same April 23rd:
Your Help Needed to Save the Okefenokee National Wildlife Refuge! Tell Chemours to Say No to Mining Next Door!

We need your help to save the great Okefenokee National Wildlife Refuge from mining! Twin Pines Minerals, LLC, an Alabama mining company run by executives with a terrible record of fraud and pollution, has applied for permits to operate a titanium strip mine just off the corner of the Refuge. The mining could lead to the draining of the swamp, devastation of the ecosystem, and the drying out and burning up of the swamp's peat beds, which would release enormous amounts of stored carbon, not to mention irreversible damage to the local tourist and timber economy.

There is talk that Twin Pines has been in conversation to sell the project to Chemours, a large chemical and mining company that mines for titanium elsewhere in southeast Georgia. Chemours is a successor to DuPont, which famously abandoned a similar project to mine titanium next to the Okefenokee back in the late '90s and instead donated its land for conservation.

We are trying to convince Chemours to follow in DuPont's footsteps and publicly commit not to buy the project or the titanium produced there, which would hopefully convince Twin Pines that there is no hope to make the project a success and would instead lead them to abandon the project. The Chemours annual meeting is in two weeks, and we are trying to get hundreds of people to weigh in with them before then. Please send a message to Chemours by filling out the form on this page today!
Follow this link to use the Sierra Club call to action:
https://act.sierraclub.org/actions/Georgia?actionId=AR0326624&id=70131000001Lp1FAAS
And you can still use the Waterkeeper Alliance action alert to Help Suwannee Riverkeeper Save Okefenokee Swamp by sending a message to the Georgia Environmental Protection Division (GA-EPD) asking them to reject Twin Pines Minerals' five permit applications, or at least to go through a full process to review them:
https://wwals.net/?p=55092
We don't want anything next to the Okefenokee Swamp to look like this, do we?

Chemours Maxville Mine, Bradford County, Florida
Photo by Wayne Morgan on a Southwings flight for Suwannee Riverkeeper 2019-10-05.
FDEP sent this alert to various interested parties on April 23rd:
The Florida Department of Environmental Protection, Mining & Mitigation Program gives notice of its intent to issue an environmental resource permit. Please click the link below to access the final order. https://depedms.dep.state.fl.us:443/Oculus/servlet/shell?command=getEntity&[guid=26.101321.1]&[profile=Permitting_Authorization]

If you have questions regarding this project, please contact Janelle Strong at 850-245-7549 or via email at MiningAndMitigation@FloridaDEP.gov.
If you don't want to wrestle with Oculus, those permit documents are also on the WWALS website:
https://wwals.net/pictures/2021-04-23–chemours-sierra-club-tpm

Appendix E: Plant Site Development Plans
PDF
I took these videos when the Bradford Board of County Commissioners approved their bit for Chemours to open Trail Ridge South Mine.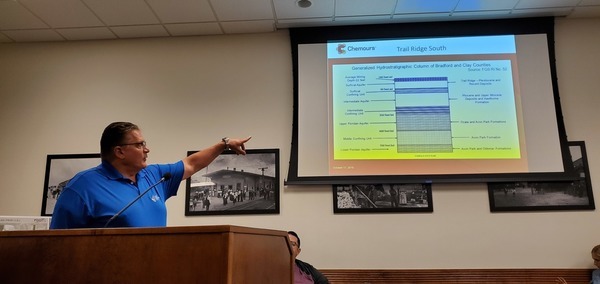 Chemours also has yet another mine in Wayne County, Georgia, near Jesup. Google maps now lists it as Chemours Jesup Mine. I suppose WWALS should add it to our map, since we seem to be collecting all the Chemours Trail Ridge mines.

On Flint Branch Church Road just west of Jesup, Parcel 72-59, Hopkins W C & Sons P O BOX 488, FOLKSTON GA 31537, which happens to also be the address of Toledo Manufacturing Company, which owns thousands of acres of land in Charlton County, GA, including immediately north of the Twin Pines Minerals site near St. George.
Office of Governor Brian P. Kemp, Press Release, 22 September 2020, Kemp Welcomes Chemours to Wayne County as $86 Million Investment Creates 78 New Jobs,
"The expansion of Chemours is exciting news for our state. Thanks to our top-ranked workforce and unmatched logistics network, the Peach State offers countless opportunities for companies to succeed," said Governor Kemp. "We applaud and support their commitment to conservation and celebrate their success as one of our Georgia Made™ companies, while creating new jobs and opportunities for hardworking Georgians."

The new facility provides the company with additional access to high-quality concentrated deposits of titanium and zircon mineral sands used to produce Chemours' Ti-Pure™ brand of titanium dioxide (TiO2), which is applied in different types of manufacturing. The Zircon produced at the Jesup plant will be used in precision casting, and 98% of the water used throughout the plant will be recycled. In addition to producing Zircon, Chemours is world-renowned for its international production of titanium dioxide, which is used for coatings, plastics, and laminates.
Mining jobs may be fine away from major waterways, unlike the ones in Bradford County, Florida, at the headwaters of the New and Santa Fe Rivers. Especially unlike next to the Okefenokee National Wildlife Refuge.
The day before the FDEP new Chemours mine alert and the Sierra Club action alert, Georgia Governor Kemp made national and international news by saying nothing.
Russ Bynum, AP in Washington Post, 22 April 2021, Georgia governor won't wade into debate on Okefenokee mining.
AP in The Independent (U.K.), 22 April 2021, Georgia governor won't wade into debate on Okefenokee mining,
Georgia Gov. Brian Kemp said Thursday he's not wading into the debate over whether a mining company should be allowed to dig for minerals near the edge of the vast wildlife refuge in the Okefenokee Swamp.

For the past two years, Twin Pines Minerals, an Alabama-based company, has been seeking permits to mine for titanium dioxide less than 4 miles (6.4 kilometers) from the swamp that's home of the largest U.S. wildlife refuge east of the Mississippi River.

The promise of new jobs has won supporters on the refuge's doorstep in Charlton County, home to about 13,000 near the Georgia-Florida line. But conservationists worry mining could cause irreparable harm to a fragile ecosystem that serves as a habitat for alligators, bald eagles and other protected species.

After meeting Thursday morning with local leaders and business owners in the county seat of Folkston, Kemp declined to take sides on the proposed mine. Permits are still pending before Georgia's Environmental Protection Division.

"I'm going to let the process play out," Kemp told reporters. "I know you want me to say more, but that's really about all I have on that."
Funny how last October Gov. Kemp issued a press release in favor of the Chemours Jesup Mine, yet now he won't say yea or nay on the proposed Twin Pines Minerals mine next to the Okefenokee Swamp.
Your message to GA-EPD in the Waterkeeper Alliance action alert will also be forwarded to Gov. Kemp:
https://wwals.net/?p=55092
-jsq, John S. Quarterman, Suwannee RIVERKEEPER®
You can join this fun and work by becoming a WWALS member today!
Short Link: