Update 2019-06-19: Ticket sales are closed. See you there!
Even if you aren't paddling on the Withlacoochee and Suwannee with Paddle Georgia, you can still enjoy the end of trip feast with this dinner ticket, if you buy within a week.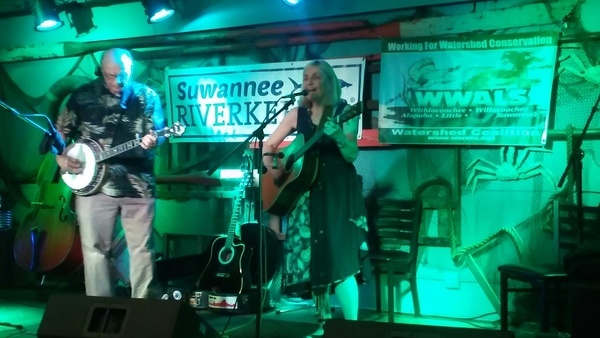 Live entertainment by First Annual Suwannee Riverkeeper Songwriting Contest Winner Laura D'Alisera and catering of catfish (with vegetarian option) by The Salty Snapper of Valdosta.
Dinner is served at 6PM but entertainment will be before and after the meal.
Spend a relaxing evening with good food and entertainment and support your local rivers. The venue is right next to the Suwannee River, in Dowling Park, Suwannee County, Florida.
Tickets: $25 each, online
When: Get your tickets online by noon, Wednesday, June 19, 2019
Dinner: 5:30 PM, Friday, June 21, 2019
Where: Advent Christian Village,
10680 Dowling Park Dr, Live Oak, FL 32060
Remember to get your tickets by noon, Wednesday, June 19, so we can get a final count to the caterer, The Salty Snapper.
And coming up Continue reading →