Update 2020-08-19: Valdosta concurs: Withlacoochee River quality still looks good 2020-08-17.
WWALS testers for Sunday after little rain found low water and good water quality upstream on the Little and Withlacoochee Rivers and Okapilco Creek in Cook, Lowndes, and Brooks Counties, Georgia, but very bad E. coli on Crooked Creek @ Devane Road in Brooks County.

Green Swim Guide, pictures, results
Conn and Trudy Cole got 200 cfu/100 mL E. coli on the Little River @ GA 76 (Cook County Boat Ramp). That's above the 126 long-term average limit, but still good enough to mark Cook County Boat Ramp green on Swim Guide. They remarked that's the highest they've gotten there. Well, recently: back on April 25, 2020, after very heavy rain, they got 433, which is above the 410 one-time sample limit. That would be a red mark on Swim Guide, so it's good they got 200 this time. See also What do these numbers mean?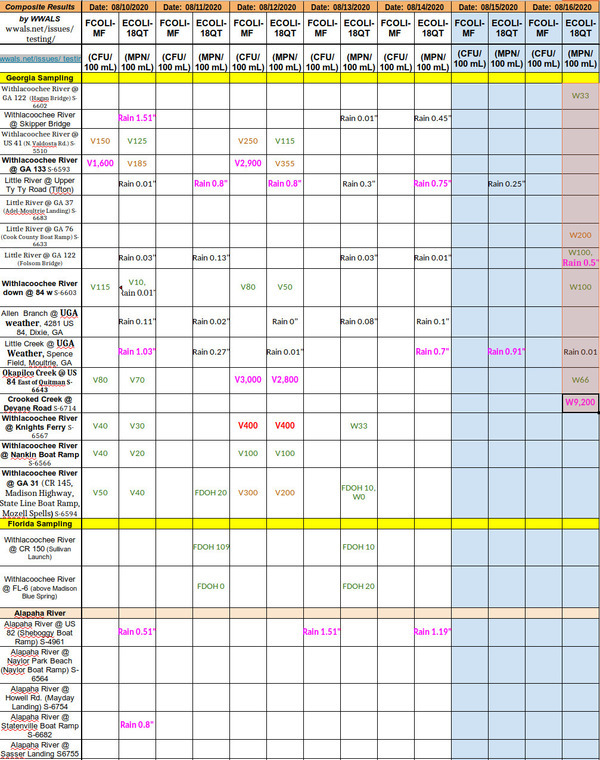 Good upstream, nasty Crooked Creek
For context and the entire WWALS composite spreadsheet of Georgia and Florida water quality results, see https://wwals.net/issues/testing/
A bit downstream on the Little River @ GA 122 (Folsom Bridge Landing) I got Continue reading →