Approximately 3-mile loop hike through a riverine slope forest, led by Hamilton County Practicing Geologist Dennis J. Price. It is a mature hardwood forest with open understory. Small creeks, spring seeps and seepage slopes are common, near the Suwannee River, northeast of White Springs. Hiking on and off trail. We end up back where we started.
This is the rescheduling of the former Hike to Dead River, because the Alapaha River is too high there.
When: 12:00 PM, Saturday, January 19, 2019
Put In: Little Shoals Entrance:
In white springs on US 41, turn onto CR 135 at flashing light across street from S&S food store.
About a mile or two north of White Springs on County Road 135 is the entrance to Little Shoals in the Big Shoals State Park.
It is a wide open entrance and you can see the parking area once you turn into entrance.
(Do not go to the main entrance to Big Shoals, which is 4 miles north of the Little Shoals entrance.)
Take Out: Little Shoals Entrance
Bring: drinking water, snacks, hiking shoes, warm clothes, and first aid kit. No boat required: this is a hike, on foot. Also trash pickers and trash bags: every WWALS outing is also a cleanup.
Free: This outing is free to WWALS members, and $10 (ten dollars) for non-members. $4 park entrance fee per car. We recommend you support the work of WWALS by becoming a WWALS member today!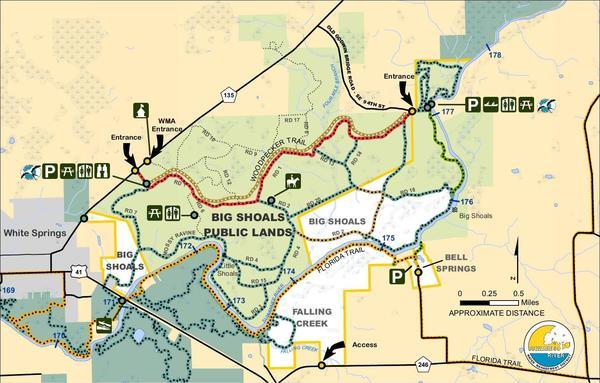 Map: Little Shoals and Big Shoals by SRWMD, including PDF map.
Continue reading