Update 2019-01-16: Due to high water on the Alapaha River, moved to Hike at Little Shoals, Suwannee River.
There's nothing else like it in Florida (or Georgia), so come along on the traditional winter WWALS three-mile hike to the Dead River Sink! No boat required to see the Alapaha River run up this distributary and disappear into the ground, not coming back up for 20 miles and three days.
This impressive geological phenomenon is an eye opener that perfectly illustrates the karst topography containing our drinking water in the Floridan Aquifer underneath our rivers. You often see exposed porous limestone along our river banks. However when you see a hole that is capable of swallowing the entire Alapaha for most of the year…. it's impressive.
When: 12 noon PM, January 19, 2019
Put In: Meet at Jennings Bluff Launch. From Jennings, Hamilton County, FL, travel south on US 41 to NW 25 Lane; turn left; travel east to NW 82 Court and the entrance into the Suwannee River Water Management District's Jennings Bluff tract; turn left and follow road to canoe launch.
GPS: 30.567172, -83.039189 (for the entrance to Jennings Bluff Tract)
Take Out: Same.
Bring: Cold weather gear, hiking shoes, and clothes resistant to thorny bushes. No boat needed. Also trash pickers and trash bags: every WWALS outing is also a cleanup.
Free: This outing is free to WWALS members, and $10 (ten dollars) for non-members. We recommend you support the work of WWALS by becoming a WWALS member today!

Photo: John S. Quarterman, Right down there, 13:33:30, 2018-01-27.
Shuttle: None.
Once you get to Suwannee River Water management District (SRWMD)'s Jennings Bluff Tract, you can see on the map below that you then drive about another mile north to get to Jennings Bluff Launch, where we will meet. Then we can walk another half mile or so to the Sink, or first hike up the dry Alapaha River to the Dead River Confluence, and then up the Dead River to the Dead River Sink.
Paddle Distance: Approximately three mile hike.
Duration: Two to three hours, depending on whether we wander around at the Dead River Confluence with the Alapaha River.
Gauge: Jennings Gauge.
This is one of our more popular outings. We've been there by water (when there was water) June 14, 2015:

Video by John S. Quarterman for WWALS, June 14, 2015 at Dead River Confluence.
We've been there by land November 6, 2016, when the water was very low and we walked on 50-million-year-old oyster beds.

Picture by John S. Quarterman for WWALS of Geologist Dennis Price at Dead River Confluence, November 6, 2016
We've even been there once when it was bright vermillion green from a dye test.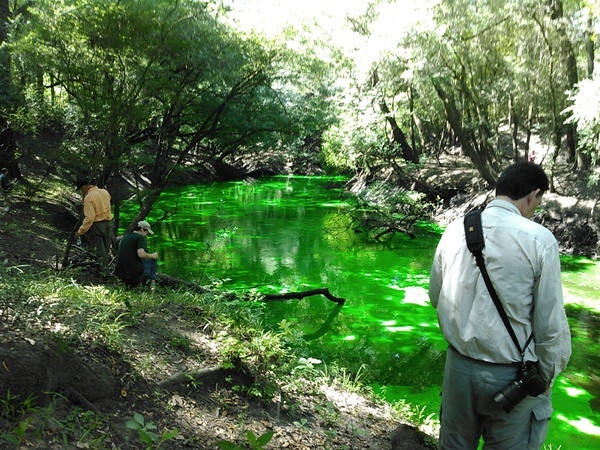 Picture by Gretchen Quarterman for WWALS of June 22, 2016 Dye Test by Suwannee River Water Management District (SRWMD). The dye came back up several days later in the Alapaha Rise.
And we hiked there January 27, 2018:

Photo: John S. Quarterman, Amanda Hall and Tom Phillips, 13:34:08, 2018-01-127.
Host: Dennis James Price, P.G.
Contact: Ronnie Thomas
In case it's not obvious, here is why you don't want to boat into the Dead River:

Video by John S. Quarterman for WWALS Into the Dead River Sink, June 14, 2015.
The Dead River is the opposite of a tributary: it's a distributary, meaning the Alapaha River flows into the Dead River. And then into the Dead River Sink, as described by Samuel Taylor Coleridge: in his poem Kubla Khan:
Where Alph, the sacred river, ran
Through caverns measureless to man
Down to a sunless sea.
So twice five miles of fertile ground
With walls and towers were girdled round;
And there were gardens bright with sinuous rills,
Where blossomed many an incense-bearing tree;
And here were forests ancient as the hills,
Enfolding sunny spots of greenery.

But oh! that deep romantic chasm which slanted
Down the green hill athwart a cedarn cover!
A savage place! as holy and enchanted
As e'er beneath a waning moon was haunted
By woman wailing for her demon-lover!
And from this chasm, with ceaseless turmoil seething,
As if this earth in fast thick pants were breathing,
A mighty fountain momently was forced:
Amid whose swift half-intermitted burst
Huge fragments vaulted like rebounding hail,
Or chaffy grain beneath the thresher's flail:
And mid these dancing rocks at once and ever
It flung up momently the sacred river.
Five miles meandering with a mazy motion
Through wood and dale the sacred river ran,
Then reached the caverns measureless to man,
And sank in tumult to a lifeless ocean; ….
Backup: if something prevents us from going to the Dead River, we'll go to Lime Run Spring Trail at Suwannee River State Park.
More: For more WWALS outings and events as they are posted, see the WWALS calendar or the WWALS outings and events web page. WWALS members also get an upcoming list in the Tannin Times newsletter.
-jsq, John S. Quarterman, Suwannee RIVERKEEPER®
You can join this fun and work by becoming a WWALS member today!
Short Link: