East on I-10 just before I-75 southbound crosses: a 74.5 MW FPL solar farm in Columbia County, Florida, well along in construction. I don't think any newspaper ever called the Sabal Trail fracked methane pipeline a windfall: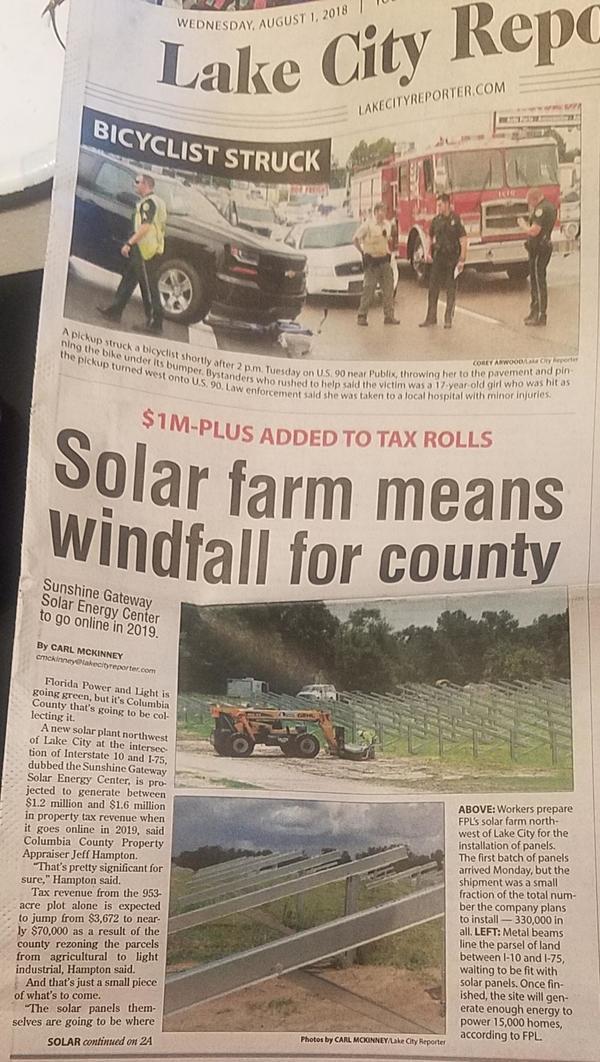 Solar photos: Carl McKinney, Lake City Reporter. Sorry I forgot who sent me this picture of the newspaper front page.
FPL PR 31 July 2018, Construction begins on FPL's four newest solar power plants,
The four new plants, which are expected to be operational by early 2019, are:

FPL Interstate Solar Energy Center, St. Lucie County
FPL Miami-Dade Solar Energy Center, Miami-Dade County
FPL Pioneer Trail Solar Energy Center, Volusia County
FPL Sunshine Gateway Solar Energy Center, Columbia County


FPL's own map of its FPL Sunshine Gateway Solar Energy Center in Columbia County, Florida.

"Florida is leading the nation in implementing solar energy affordably," said Eric Silagy, FPL's president and CEO. "FPL is among the cleanest energy providers in the nation not because of governmental mandates or requirements, but because we've been committed to making smart investments in clean energy technologies for years. And we've proven that it's possible to be both clean and reliable while keeping our customers' electric bills among the lowest in the nation."

According to a recent report from GTM Research and the Solar Energy Industries Association, Florida has installed more solar capacity in 2018 than any other state except one.
According to the Columbia County Property Appraiser, FPL owns pretty much all of the land in the angle between the interstates except for the rest stop.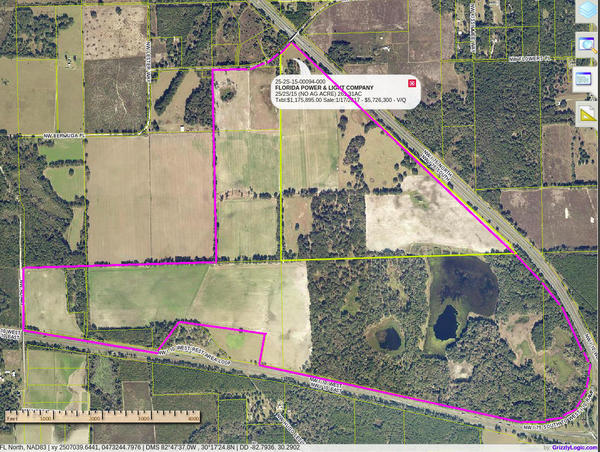 Columbia County Property Appraiser; magenta line by WWALS outlines FPL holdings.
According to USGS HUC maps, these parcels all drain to the Suwannee River, presumably somewhere near White Springs, although it's quite difficult to trace any creeks all the way between.
FPL calls it the FPL Sunshine Gateway Solar Energy Center, on with ~330,000 solar panels on 953 acres, generating 74.5 MegaWatts of electricity.
The solar plant generates zero-emissions electricity for FPL customers — enough to power approximately 15,000 Florida homes and equivalent to removing approximately 12,000 cars from the road each year.
This is the same FPL that only a few years ago was telling local counties that Florida is too cloudy for solar power. The same FPL that is wasting $3.5 billion of its customers' money on the Sabal Trail fracked methane pipeline.
Well, at least FPL is finally building solar farms and admitting all this:
The perfect neighbor

Universal solar energy centers are virtually silent, require no water for operation or maintenance, and solar arrays sit low to the ground. A solar center does not require staff to operate so it won't bring more traffic to the area after construction.

Like all good neighbors, we work hard to minimize impacts from construction, which is expected to last about six to eight months.

Cost-effective energy

FPL's new solar plants are designed to result in no net cost for customers by generating savings on fuel and other costs to offset the cost of construction over their operating lifetime.

Job creation

The proposed FPL Sunshine Gateway Solar Energy Center could create about 200 jobs during construction, which in turn will provide an economic boost to local businesses.
I happened to pass by there on September 4, 2018, and took a few pictures.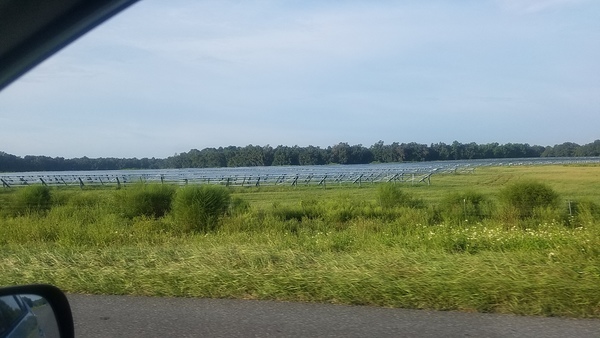 Racks ready for panels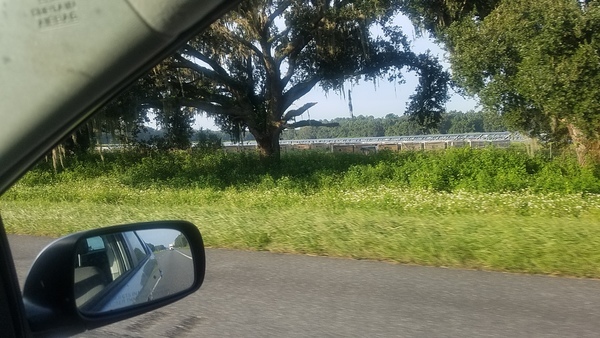 Panels in boxes
Here's a video:

Seen from I-75: FPL Columbia County Solar Farm, fall 2018
Video by John S. Quarterman for WWALS Watershed Coalition (WWALS), 4 September 2018
Stew Lilker, Columbia County Observer, 14 September 2018, FPL Columbia Cnty Solar Farm Under Construction,
It takes six to eight months to construct an FPL solar farm.
So it could be complete as early as January 2019.
This Columbia County solar farm is about five miles east on I-10 from FPL's Echo River Solar Energy Facility in Suwannee County.
Next: FPL's solar farm in Union County, which is more controversial.
-jsq, John S. Quarterman, Suwannee RIVERKEEPER®
You can join this fun and work by becoming a WWALS member today!
Short Link: