Let me echo a local resident: "I'm just saying where … is Echo River?" FPL's new solar farm in Suwannee County just north of I-10 east of Live Oak actually straddles Rocky Creek, which runs north across I-10, through this FPL solar farm, and on into the Suwannee River just downstream of I-75.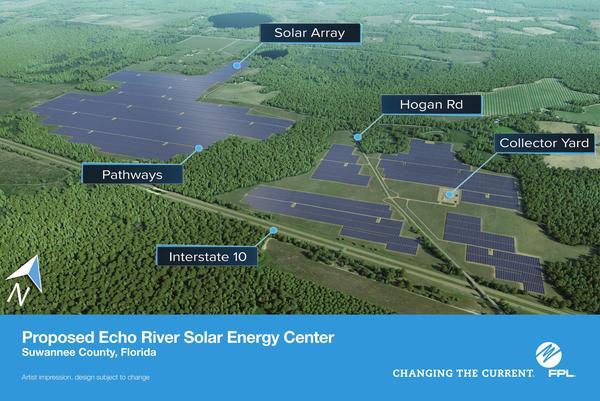 Jamie Wachter, Suwannee Democrat, and Valdosta Daily Times, 18 May 2018, FPL plans for solar farm off I-10,
LIVE OAK, Fla. — An 800-acre property that once grew timber alongside Interstate 10 in northeastern Suwannee County may soon sprout solar panels.
This 2016 aerial map from the Suwannee County Property Appraiser does show planted pines on much of the site: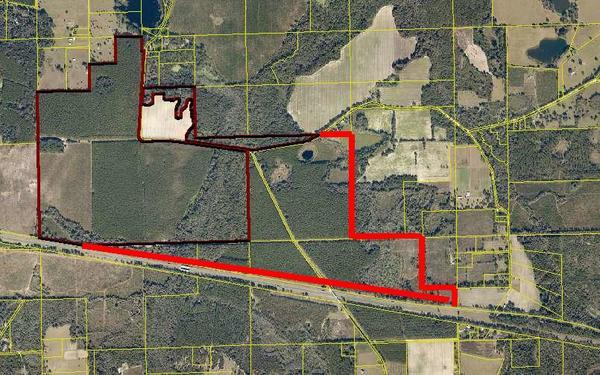 The Suwannee County Board of County Commissioners unanimously greenlighted Florida Power & Light Company's proposed Echo River Solar Energy Facility that is expected to produce 74.5 MW of energy at Tuesday night's meeting.

The property, which sits just north of I-10 and is bordered by Hogan Road to the north and east, is about five miles east of Live Oak.
A current google map with 2018 aerials shows no trees on most of the area planned for solar panels, which I would guess mean the current owner, FPL, or the previous owner already cut the trees, presumably for timber or pulpwood.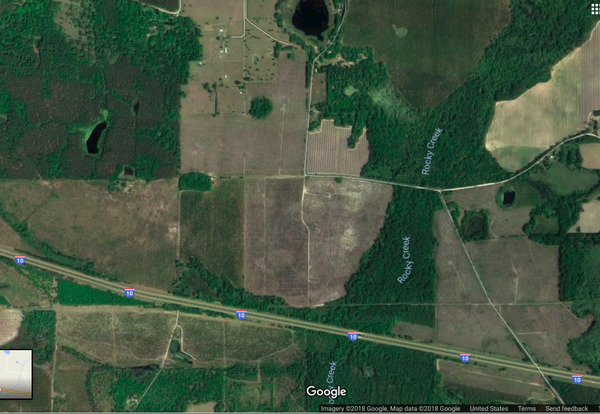 FPL Project Manager Geoff West said the company has tripled its solar power generation the past two years from 300 MW to 900 MW and currently has four additional solar facilities under construction, including one nearby in Columbia County that would add an addition 300 MW.
More later on that FPL Columbia County solar site and one in Union County.
The proposed Suwannee County facility would be put into operation in 2020 with construction beginning on the site in the second quarter of 2019.

It is part of FPL's push to add 2,100 MW of solar energy in the next five years….
It's good to see FPL finally starting to do what it could have been doing with that $3 billion wasted on the Sabal Trail fracked methane pipeline. Keep building solar farms and eventually Florida could catch up with Massachusetts or New Jersey.

Graph: Top 10 Solar Power States, SEIA, Paul Horn, Inside Climate News.
One aspect of the Suwannee solar farm that would separate it from other recent additions to FPL's solar portfolio would be the use of a tracker system instead of fixed panels.

West said the current plan is to implement the tracker system, one where the panels move east to west throughout the day to follow the sun and increase the energy produced.

"What's neat about this technology is it senses any shading from other panels or trees and adjusts itself automatically to create the most efficient power," West said….
That's all good.
The article does mention Rocky Creek running through the middle.
"We have the ability to situate panels so we don't impact wetlands or sensitive areas," [West] said.
That's good news all the way downstream to the Suwannee River.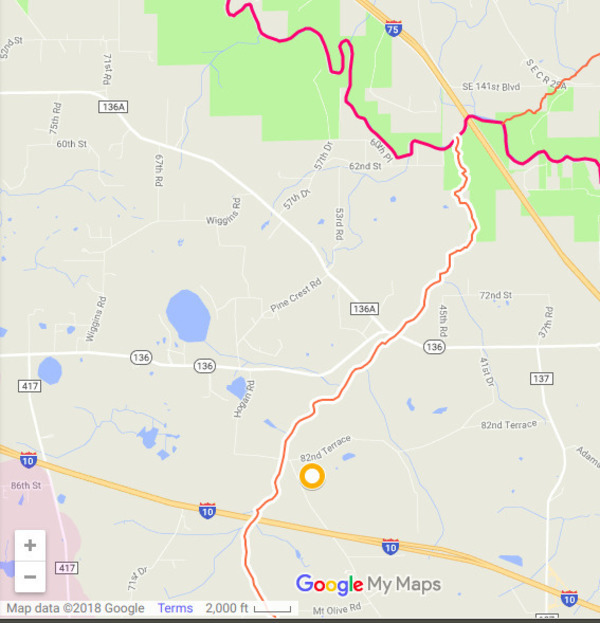 Following FPL's presentation, Commissioner Clyde Fleming asked about the lifespan of the panels and project.

West said the degradation of the panels is taken into account when constructing the facility and even in 30 years the plant will continue to produce 74.5 MW of energy.

Commissioner Ronnie Richardson then expressed concern about reflection off the panels and any potential hazards that would create to the traffic on I-10.

West assured Richardson that would not be an issue.

"If our panels are reflecting light that means we're not capturing it and converting it to electricity. We want to make sure that we're converting as much sunlight as possible into electricity," West said, adding that the panels have an anti-reflective coating on the glass as well as being dark in nature.

"They try to absorb as many spectrums of light as possible."
West assured the Suwannee BOCC that the county would get additional tax revenue.
Still, Branford resident Jim Ward had one issue with the proposed facility: its name.

"I don't care for the name," Ward said, adding he spent a portion of the presentation trying to figure out where the solar farm was located. "How about Rocky Creek? Suwannee County Facility? Something different besides Echo River. It doesn't do much for me, I have to tell you.

"I'm just saying where … is Echo River?"
Echo that.
On FPL's own web page for the Echo River Solar Energy Center, FPL is finally singing some of the same solar songs many of us have been singing for years:
The solar plant generates zero-emissions electricity for FPL customers — enough to power approximately 15,000 Florida homes and equivalent to removing approximately 12,000 cars from the road each year.

The perfect neighbor

Universal solar energy centers operate quietly, require no water for operation or maintenance, and solar arrays sit low to the ground. A solar center does not require staff to operate so it won't bring more traffic to the area after construction.

Like all good neighbors, we work hard to minimize impacts from construction, which is expected to last about six to eight months.

Cost-effective energy

FPL's new solar plants are designed to result in no net cost for customers by generating savings on fuel and other costs to offset the cost of construction over their operating lifetime.

Job creation

The proposed FPL Echo River Solar Energy Center could create about 200 jobs during construction, which in turn will provide an economic boost to local businesses.
This is all true. FPL did neglect to mention these solar panels need no fuel, no pipelines, no eminent domain, no drilling under rivers, and don't leak or explode, unlike FPL's Sabal Trail fracked methane pipeline about 20 miles to the west.
Even FPL's parent company and partner in Sabal Trail Transmission LLC, NextEra Energy, has been bragging since at least January 2018 about being "the world's current leader in wind, solar, and storage development….". That Q4 2017 Earnings Call went on at great length on those power sources, while mentioning Sabal Trail only once, for one paragraph.
Better late than never, I suppose. Let the sun rise!
Thanks to WWALS board member and Live Oak resident Eileen Box for the heads up about this solar farm. I subscribe to the Valdosta Daily Times; apparently I should read it more closely.
-jsq, John S. Quarterman, Suwannee RIVERKEEPER®
You can join this fun and work by becoming a WWALS member today!
Short Link: