Someone inside FDEP has been brave enough for years to say the emperor has no clothes regarding contamination in the Suwannee River Basin.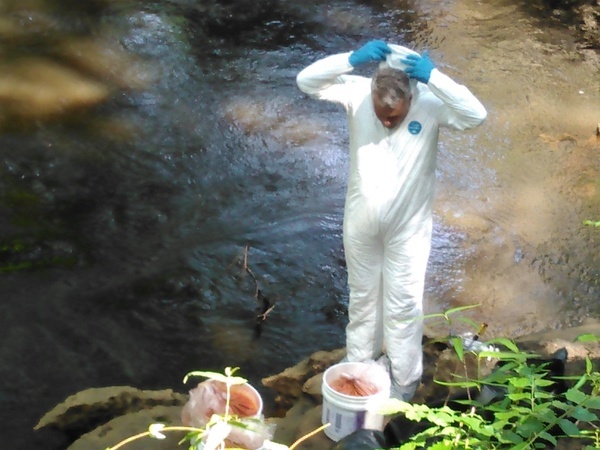 Photo: John S. Quarterman for WWALS, of Thomas Greenhalgh suiting up at the Alapaha Dye Test, 2016-06-22.
Dinah Voyles Pulver, The Daytona-Beach News-Journal, 24 November 2018, State geologist challenging springs action plan raised questions before,
When groups across the state challenged new springs protection rules published by the Florida Department of Environmental Protection over the summer, one name stood out: Thomas Greenhalgh.

Greenhalgh, a hydrogeologist who works for the DEP's Florida Geological Survey, surprised many by taking the rare step of challenging his own agency's proposed action plan for improving water quality in the springs in the Suwannee River basin. That plan was one of 13 approved in June for springs that include Blue Spring in Orange City and Gemini Springs in DeBary. Echoing concerns voiced by Volusia County officials and environmental advocates, Greenhalgh's letter stated the springs plans made claims that are "inaccurate and unsubstantiated."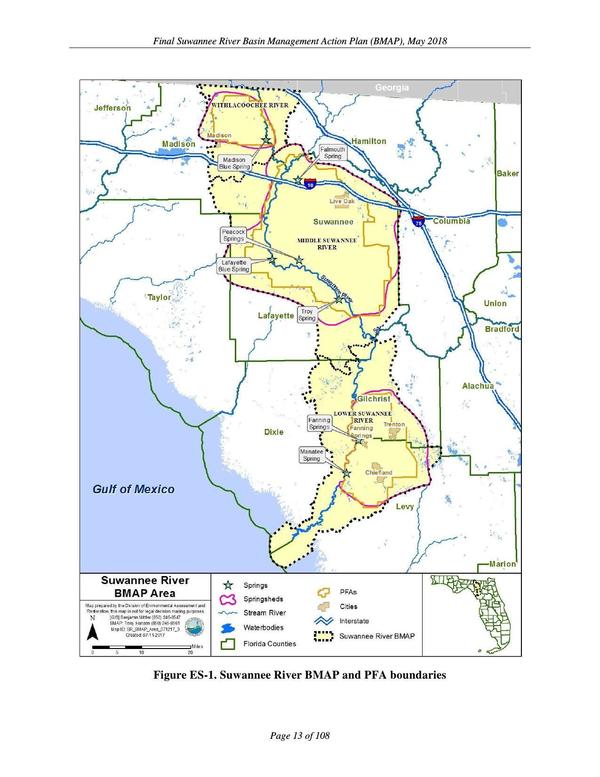 Suwannee River BMAP and PFA boundaries, The Problem, in Final Suwannee River BMAPs, May 2018
A review of records provided to The News-Journal include a reprimand Greenhalgh received in January 2014. The main concern in the reprimand was that critical comments Greenhalgh made in emails about water policy decisions and state government leadership could become public.

The reprimand also shows Greenhalgh has been trying for at least five years to raise alarms to his superiors about the effectiveness of best management practices for agriculture producers. The springs action plans count on farmers using practices that conserve water and reduce the use of nitrogen-containing fertilizers to help improve the quality of water that flows to the springs. Greenhalgh has said the practices now in place aren't adequate.

…

Greenhalgh, whose family owns a spring along the Suwannee, was one of two people who have already filed requests for administrative hearing. Greenhalgh disputed the state's estimate of how much pollution would be removed from spring water by the projects listed in the plan. The department dismissed both of those requests, but granted Greenhalgh and a resident in the Santa Fe River basin, Paul Still, six months to rewrite their requests and resubmit.

…

Greenhalgh stated the advisory council members should know that current best management practices would not achieve acceptable water quality. He wrote that the information being stated about the practices was "unsupportable and those doing this know it."

…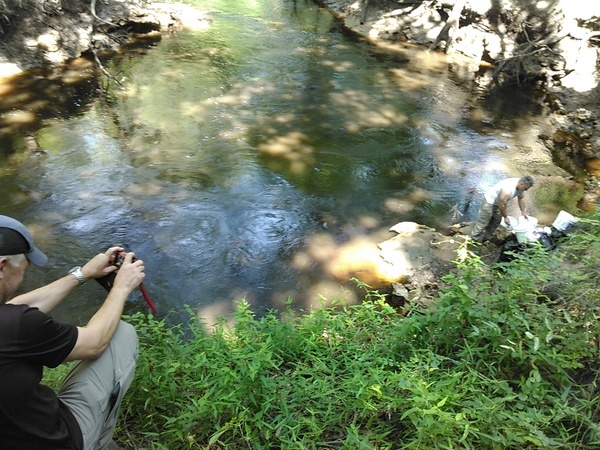 Photo: John S. Quarterman for WWALS, of Thomas Greenhalgh preparing at the Alapaha Dye Test, 2016-06-22.
John Quarterman, the Suwannee River Riverkeeper, one of the groups challenging the proposed springs action plans, called Greenhalgh "a brave man."

"I'll give him that. And also, of course, he's right," said Quarterman, who recalls meeting Greenhalgh only once, at an event to do dye trace studies in a tributary to the Suwannee.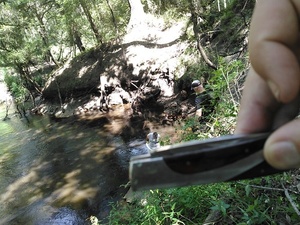 That was the Alapaha Dye Test, in which Greenhalgh put bright green dye into the Dead River (a distributary of the Alapaha River), so it would go down the Dead River Sink. It came back up a few days later in the Alapaha Rise on the Suwannee River, where people had always thought it would, and also in Holton Creek Rise a bit upstream on the Suwannee.
With water and contaminants such as nitrates moving underground like that, it's going to take more than winter cover crops and crop rotation to stop nitrates from getting into springs.
Greenhalgh used my knife to open the bags of dye, so at least I can say I supported him in that activity.
WWALS also supports Greenhalgh in trying to get real BMAPs with something more than the BMPs that haven't worked for the past decades.
The story goes on to quote former St. Johns River Water Management District scientist Jim Gross:
"Of course it happens," he said. He contends it continues to occur among the department-supervised water management districts, where executives make it clear that senior staff isn't allowed to say anything that's not "specifically approved by the executive directors," or "contrary" to the governor's position.
FDEP of course says that if such a thing happened certainly the governor didn't cause it.
Jim Gross meanwhile continues educating people about how badly FDEP is mismanaging water.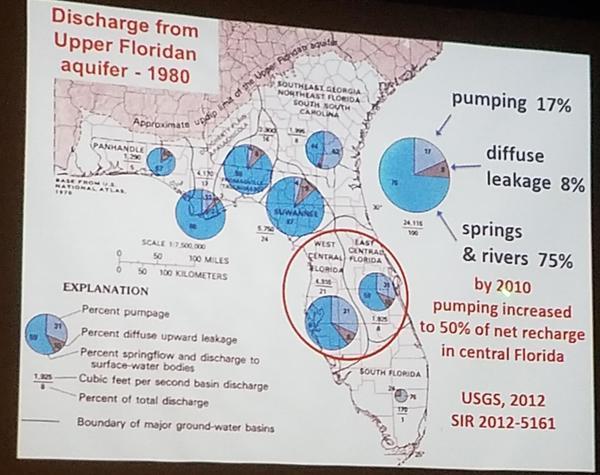 Jim Gross showing central Florida as far over sustainable withdrawals at WiLFest in Gainesville 2017-06-17
Photo: John S. Quarterman for WWALS
Here's the WWALS request for more time for petitions against the Suwannee River BMAPs, plus another picture of Greenhalgh.
The deadline for filing petitions was extended to January 2019.
-jsq, John S. Quarterman, Suwannee RIVERKEEPER®
You can join this fun and work by becoming a WWALS member today!
Short Link: