Update 2018-12-19: No answers a month later, so today we sent another inquiry today.
Sent today, as PDF. -jsq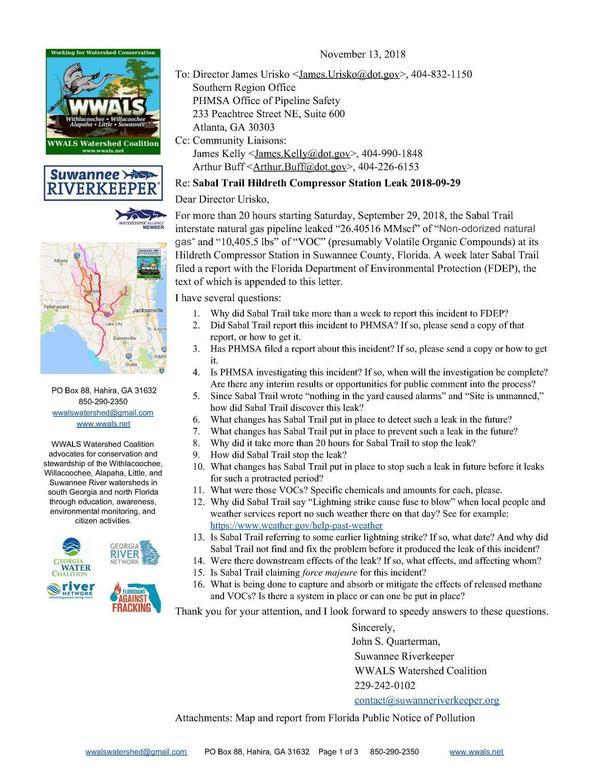 ---
November 13, 2018
To: Director James Urisko <James.Urisko@dot.gov>, 404-832-1150
Southern Region Office
PHMSA Office of Pipeline Safety
233 Peachtree Street NE, Suite 600
Atlanta, GA 30303
Cc: Community Liaisons:
James Kelly <James.Kelly@dot.gov>, 404-990-1848
Arthur Buff <Arthur.Buff@dot.gov>, 404-226-6153
Re: Sabal Trail Hildreth Compressor Station Leak 2018-09-29
Dear Director Urisko,
For more than 20 hours starting Saturday, September 29, 2018, the Sabal Trail interstate natural gas pipeline leaked "26.40516 MMscf" of "Non-odorized natural gas" and "10,405.5 lbs" of "VOC" (presumably Volatile Organic Compounds) at its Hildreth Compressor Station in Suwannee County, Florida. A week later Sabal Trail filed a report with the Florida Department of Environmental Protection (FDEP), the text of which is appended to this letter.
I have several questions:
Why did Sabal Trail take more than a week to report this incident to FDEP?
Did Sabal Trail report this incident to PHMSA? If so, please send a copy of that report, or how to get it.
Has PHMSA filed a report about this incident? If so, please send a copy or how to get it.
Is PHMSA investigating this incident? If so, when will the investigation be complete? Are there any interim results or opportunities for public comment into the process?
Since Sabal Trail wrote "nothing in the yard caused alarms" and "Site is unmanned," how did Sabal Trail discover this leak?
What changes has Sabal Trail put in place Continue reading