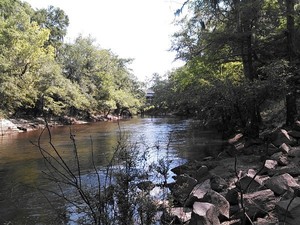 Paddle upstream on the Little River and float back down: the WWALS June Outing.
When: Please arrive by 8:30 AM so everyone can be ready to put in by 9AM.
Where: GA 133 bridge at the border of Brooks County and Lowndes County, Georgia. If we go far enough up, we will be able to see Franks Creek coming in.
This put-in at GA 133 is the one the Valdosta-Lowndes County Parks & Rec Authority (VLPRA) calls the Little River Boat ramp:
30°51'6.63″N 83°20'47.53″W Little River Boat Ramp offers access to the Little River on the border of Lowndes and Brooks Counties and is located near Exit 18 off Interstate 75.

Intersection of St. Augustine and Val Tech Rd.
Valdosta, GA 31602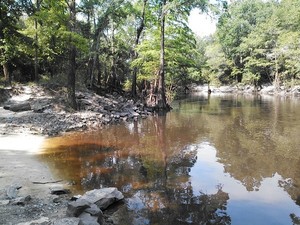 That's only
15 minutes from Quitman, GA,
20 minutes from Adel, GA,
24 minutes from Lakeland, GA,
30 minutes from Madison, FL,
30 minutes from Nashville, GA,
30 minutes from Moultrie, GA,
36 minutes from Jasper, FL,
40 minutes from Tifton, GA, or
50 minutes from Live Oak, FL.
As you can see by the pictures and movie taken this morning, the Little River is at a fine level for boating: 6.67 feet at the nearest gage, upstream at GA 122.
However, if it's too high or too low on the 28th, Rays Mill Pond, 875 Rays Mill Pond Rd, Ray City, Berrien County, GA is our backup location.
-jsq
Short Link: