Kinder Morgan wants to run a 360-mile Palmetto pipeline from South Carolina through Georgia to Florida, but has found organized opposition in Push Back the Pipeline:
We oppose the Palmetto Project. Our coalition includes Savannah Riverkeeper, Altamaha Riverkeeper, Ogeechee Riverkeeper, Satilla Riverkeeper, St. Johns Riverkeeper, One Hundred Miles, and Environment Georgia. Kinder Morgan would build 360 miles of new pipeline across land and rivers in SC and on GA's coast, a risk we just can't take. Building another pipeline is a risk to our drinking water, our wildlife and environment, our people and our property. In the event of an accident, the damage to the watersheds of 5 of Georgia's major rivers, coastal landscapes and swamps could be virtually irreparable. We need the public's involvement to speak up about our concerns surrounding this new pipeline. To move forward without such dialogue would be an affront to our property rights and the safety of our precious ecosystems. We are working with concerned citizens, landowners, organizations and other groups who oppose the Palmetto Project or would like to push for a safer route.

Let's #PushBackThePipeline together! Follow Push Back the Pipeline on Facebook for news and updates on public meetings and more, as well as how we are working with several organizations towards a positive outcome.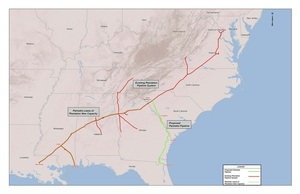 Unlike Sabal Trail's proposed gouge through Alabama, southwest Georgia and Florida, this Palmetto Project through southeast Georgia is supposedly for "refined petroleum products (diesel, gasoline and ethanol)". But nothing stops it being repurposed once it's built, and it runs conveniently right past Kinder Morgan's Elba Island LNG, and to Jacksonville, where Jaxport is gearing up for LNG export. For that matter, how hard would it be for an LNG export terminal also to export other petroleum products?
This also affects other states, since Kinder Morgan's Palmetto Project web page says:
The project will have a design capacity of up to 167,000 barrels per day and will consist of a segment of expansion capacity that Palmetto will lease from Plantation Pipe Line Company between Baton Rouge, Louisiana and Belton, South Carolina.
As you can see on the map, that includes going through Mississippi and Alabama.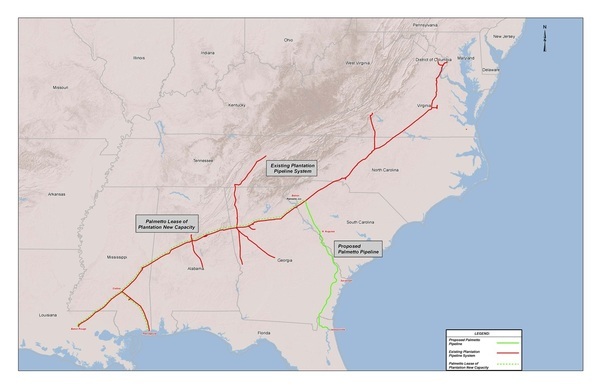 Kinder Morgan is holding a series of meetings sometimes billed as "hearings", but actually it's KMI's attorneys collecting citizen input, and at the first one last night they cut people off because of some sort of time limit, according to people who were there. According to Savannah Riverkeeper:
The Georgia Department of Transportation and Palmetto Products Pipe Line LLC will host a public information open house at:

DoubleTree by Hilton Hotel, Savannah Airport, 50 Yvette J. Hagins Drive in Savannah, GA on March 4 at 5 p.m.;
Country Inn and Suites, 742 General Stewart Way in Hinesville, GA on March 5 at 5 p.m.;
Screven County Library, 106 S. Community Drive in Sylvania, GA on March 10 at 5 p.m.;
First Liberty Market, E 7th St. and N Liberty St. in Waynesboro, GA on March 11 at 5 p.m.;
Hampton Inn & Suites, 128 Venture Drive in Brunswick, GA on March 12 at 5 p.m.,

concerning Palmetto's Certificate of Public Convenience and Necessity to construct a pipeline in Georgia. Written comments will be accepted through March 9. Written statements may be submitted at any of the five meetings and may be mailed to: Jon Chally, King & Spalding LLP, 1180 Peachtree Street N.E., Atlanta, GA, 30309.
It does already have a FERC docket, number OR15-13, started 23 January 2015 with Palmetto Products Pipe Line LLC's Petition for Declaratory Order of Palmetto Products Pipe Line LLC under OR15-13 and with most recent item FERC's Notice of Petition for Declaratory Order re Palmetto Products Pipe Line LLC under OR15-13.
Naturally every one of those meetings is a PR opportunity for the opposition, and Push Back the Pipeline is taking full advantage, getting lots of media coverage, ranging from Valdosta Today 9 February 2015, to the Columbia County, SC News-Times and the Augusta Chronicle 11 February 2015 to SavannahNow three days ago to the Florida Times Union two days ago, to WALB yesterday morning before the first meeting. And that's all before the meetings started.
More than 60 people turned out last night in Savannah, and several stories are already up on Push Back the Pipeline.
-jsq
Short Link: