Finally ready for prime time and a ribbon cutting: the new, uphill, out-of-the-floodplain, long-awaited Withlacoochee Wastewater Treatment Plant (WWTP) and Force Main,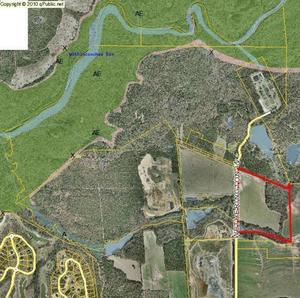 which have not overflowed or otherwise caused sewage spills in the recent rains, so maybe Valdosta's chronic problem smelt downstream all the way to the Gulf is perhaps finally fixed. Congratulations, Valdosta!
When: 8AM Tuesday July 12th 2016
Where: At the new WWTP on Wetherington Lane, north off US 84, west of I-75 exit 16
Invitations: Paper invitations were mailed last week, including to counties and health departments downstream in Florida, according to Sementha Mathews. If you didn't get one, contact her, and she says the event is in any case open to the public.
Update 2016-05-30: Sementha Mathews says the paper invitations were mailed Tuesday (day before yesterday), so they should arrive by the end of the week. Arrived.
Contact: Sementha Mathews
Public Information Officer
City of Valdosta
229-259-3548
smathews@Valdostacity.com
PO Box 1125
Valdosta, GA 31603
-jsq
You can join this fun and work by becoming a WWALS member today!
The new WWTP site is marked in red on this map from the Lowndes County Tax Assessors. North of it you can see the old WWTP nearer the river.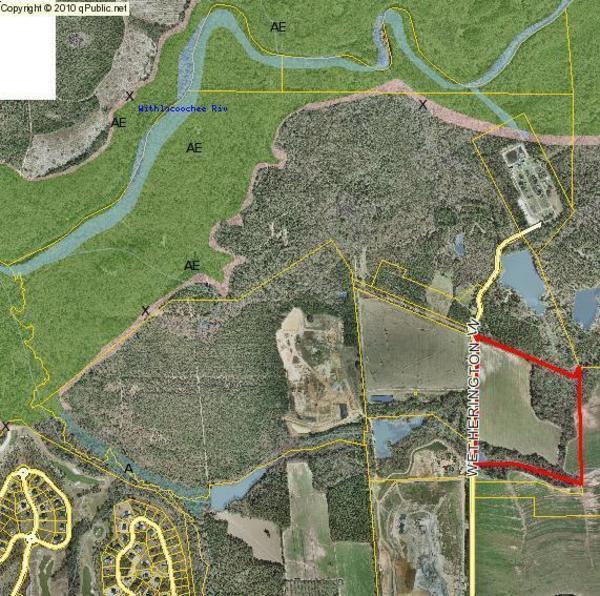 Directly west across Wetherington Lane from the new WWTP is land owned by Veolia and the old, closed, Onyx Landfill. Just south of that is an unnamed creek that flows to the Withlacoochee River. South of the creek is the open Pecan Row Landfill, with its coal ash from TVA and Florida and $27,500 fine from GA EPD for PCBs, in in a recharge zone for the Floridan Aquifer. Both landfills (and Veolia) are owned by Advanced Disposal Services (ADS), which also owns all the land north of the creek to the Withlacoochee River.
South of the unnamed creek and near the river is Kinderlou Golf Course.
Here you can see more of Kinderlou Golf Course and the surrounding area, including US 84 and I-75, with exit 16, and many house lots.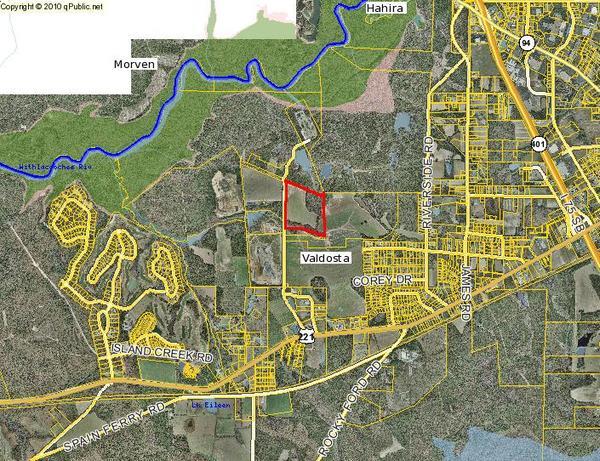 On the Withlacoochee and Little River Water Trail the new WWTP is uphill of the Withlacoochee River downstream of Langdale Park Boat Ramp and upstream of US 84.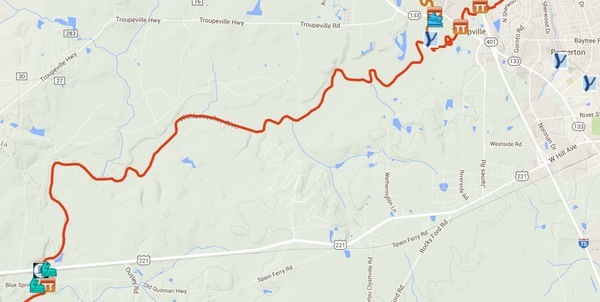 According to a recent report by Phil Hubbard, there are lots of deadfalls on that stretch, but now that we know the river should be clean below the WWTP, maybe we'll schedule an outing there.
Meanwhile, again, congratulations to Valdosta for apparently fixing the chronic sewage overflow problem!
You can join this fun and work by becoming a WWALS member today!
Short Link: