The VDT and the City of Valdosta are feuding again about water quality, this time about drinking water (not sewage).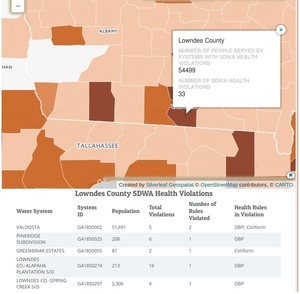 They're both wrong and both right, and neither named any of the other poor local water sources. The VDT didn't make this story easy to follow by omitting the key piece from its first online story and not quoting its source, and the city didn't acknowledge some main points the VDT made.
Kimberly Cannon, Valdosta Daily Times, 10 May 2017, City celebrates water: Mayor refutes water quality report,
After presenting the proclamation naming May 7-13 Valdosta Drinking Water Week, Mayor John Gayle responded to a Valdosta Daily Times report claiming the city had received seven citations for water violations in 2015.

The news article was based on information released by the New York-based Natural Resources Defense Council.

The mayor claimed the number of citations reported is false.

"This article in the paper today was totally inaccurate; it was changed to suit the editor of the paper's fancy for whatever he was trying to do," Gayle said. "We have not had a violation in 2016 and 2017. We have had violations in 2014, not the number that the paper reported. We're not sure where the other violations came from."

The newspaper article reported the city is now in full compliance.
OK, so what is the mayor complaining about? The online version of that VDT story doesn't mention Valdosta at all. Jill Nolin, VDT, 9 May 2017, Report: Georgia fifth in drinking water violations,
ATLANTA — About one-third of Georgia residents could be filling up their cups with water that isn't safe or hasn't been properly checked for contaminants, according to a new report from an environmental advocacy group.

The report, released this month by the New York-based Natural Resources Defense Council, ranked Georgia fifth in the nation for total water violations by population served in 2015.
Neither the mayor nor the VDT bothered to name the NRDC report, which seems to be Kristi Pullen Fedinick, Mae Wu, Erik D. Olson, NRDC Report, 2017-05-02, Threats on Tap: Widespread Violations Highlight Need for Investment in Water Infrastructure and Protections. Valdosta is not mentioned anywhere in the text of that story nor in the attached PDF files.
So what is the fuss about? Well, the paper newspaper story starts on the front page like this: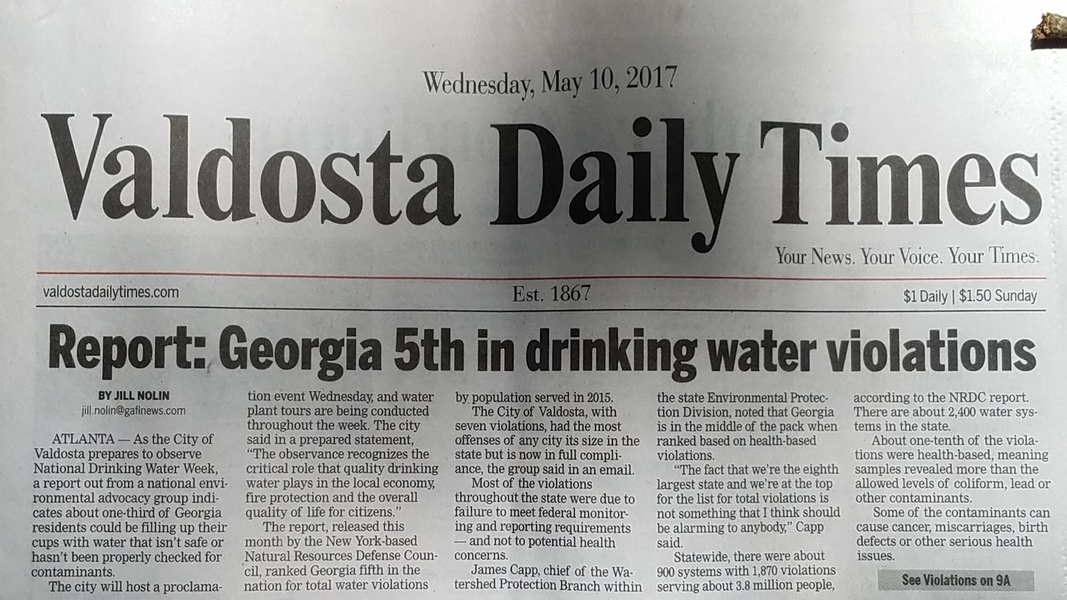 Jill Nolin, Valdosta Daily Times, front page, 2017-05-10,
As the City of Valdosta prepares to observe National Drinking Water Week, a report out from a national advocacy group indicates about one-third of Georgia residents could be filling up their cups with water that isn't safe or hasn't been property checked for contaminants.

The city will host a proclamation event Wednesday, and water plant tours are being conducted throughout the week.

…

The City of Valdosta, with seven violations, had the most offenses of any city of its size in the state but is now in full conpliance, the group said in an email.
That last sentence is presumably what the mayor is complaining about. He didn't acknowledge that it says Valdosta "is now in full compliance". He could have just emphasized that and moved along, but he didn't. Well, let's see if there's any substance in this kerfluffle.
The VDT didn't make it easy for people to see that sentence, either, by not putting it in the online story. Maybe the material about Valdosta was on the VDT's website and the VDT removed it. Or maybe the VDT ran the story online with different text from the beginning; this would not be the first time the VDT has done that.
In neither story and in none of the versions (online or not) does the VDT actually quote the email it got from NRDC, so we don't know what NRDC actually said.
There are some clues in the interactive map in the NRDC report. Click on the shape for Lowndes County, and you'll see this information: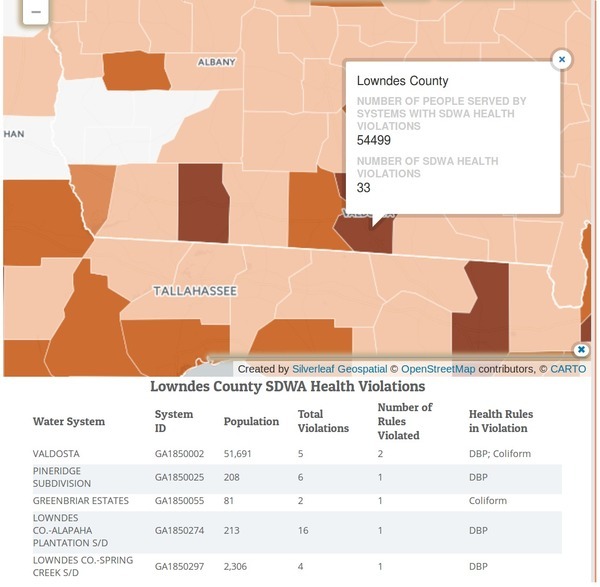 The number of violations reported there for Valdosta is 5, not 7, over some unknown timeframe. So on that one numerical point the mayor appears to be correct. But that's still worse than Savannah, Lake City, Gainesville, or Jacksonville; see next post.
Repeatedly I've heard Valdosta city officials complain (anonymously) that the VDT goes after Valdosta but not Lowndes County or other water quality violators. In this one story, that appears to be true. But it's not true historically.
I've summarized the map information about Lowndes County in this table:
| Water System | System ID | Population | Total Violations | Number of Rules Violated | Health Rules in Violation |
| --- | --- | --- | --- | --- | --- |
| VALDOSTA | GA1850002 | 51,691 | 5 | 2 | DBP; Coliform |
| PINERIDGE SUBDIVISION | GA1850025 | 208 | 6 | 1 | DBP |
| GREENBRIAR ESTATES | GA1850055 | 81 | 2 | 1 | Coliform |
| LOWNDES CO.- ALAPAHA PLANTATION S/D | GA1850274 | 213 | 16 | 1 | DBP |
| LOWNDES CO.- SPRING CREEK S/D | GA1850297 | 2,306 | 4 | 1 | DBP |
| Lowndes County | Total | 54499 | 33 | 2 | DBP; Coliform |
You can see in that table that there were more total violations in subdivisions in Lowndes County. Two of those subdivision water systems are run by Lowndes County, and one of them, at Alapaha Plantation, was by far the worst in the county, with 16 violations, and the county's Spring Creek had 4.
This isn't a secret. See below links to and quotes from a series of LAKE blog posts and several VDT stories about these county water treatment plants. Naturally the newspaper stories aren't as numerous as the blog posts, but the VDT did indeed cover these county water quality problems.
Apparently the water wasn't good at Alapaha Plantation in July 2013, despite the county utilities director saying it was, which does raise the question of how can we know. But after the county spent $1.6 million for new equipment there and for Spring Creek, apparently the water now is good. By the way, Lowndes County since then has a different utilities director.
Meanwhile, once again, the VDT story that started the present kerfluffle said Valdosta "is now in full compliance".
I will follow up with further water quality information in later blog posts.
-jsq, John S. Quarterman, Suwannee RIVERKEEPER®
You can join this fun and work by becoming a WWALS member today!
Short Link: