It's not over just because the gas is flowing through Sabal Trail. We'll be watching, and we're escalating.
Noelani Mathews, WCTV, June 15, 2017, Local environmentalist groups prepare for Sabal Trail Pipeline to go online,
"We've always did a lot online and through legal angles and we're going to continue doing a lot of that," says John Quarterman, WWALS President. "If we hear about a sink hole or a leak, we'll be there taking pictures."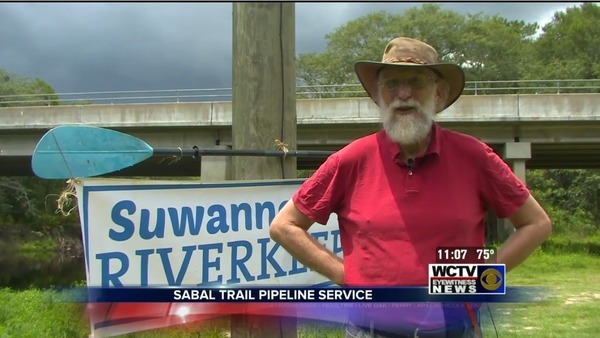 Sabal Trail Transmission spokeswoman Andrea Grover said, "Sabal Trail is ready for service on the initial facilities for Phase I. We commercially began flowing gas on the system on June 14th."

Sabal Trail Transmission says it is on track to place the remaining Phase I facilities in-service by the end of June.
At least WCTV got a straight answer out of Sabal Trail. Although it's not clear what "commercially flowing gas" means given that for example the O'Brien Compressor Station in Suwannee County is still not online.
The WCTV video:
The file footage they used of a pipeline is not of Sabal Trail; it's of the Southern Natural Gas and AGL pipelines on my property. Sabal Trail's facilities are elsewhere and are much larger.
Noelani Mathews took the video of me with the Suwannee Riverkeeper banner yesterday at the Withlacoochee River at GA 122. She videoed the WWALS members with the kayaks a year or so ago at the Withlacoochee River at US 84.
Here is some of what you can do to watch Sabal Trail like a hawk, to reform the rogue agency FERC, and to promote solar power to replace obsolete 20th century fossil fuels.
No more pipelines. Let the sun rise!
-jsq, John S. Quarterman, Suwannee RIVERKEEPER®
You can join this fun and work by becoming a WWALS member today!
Short Link: