Update 2018-10-28: Now at State Line Ramp! Yes, we've moved downstream, to plenty of water, no deadfalls, plus shoals, in two states (Georgia and Florida) and four counties (Lowndes, Brooks, Madison, and Hamilton).
-jsq, John S. Quarterman, Suwannee RIVERKEEPER®
You can join this fun and work by becoming a WWALS member today!
WWALS Boomerang
Langdale Park to Sugar Creek
and Back Again
Withlacoochee River
Valdosta, Georgia
11 AM, Saturday, November 3, 2018
Join us for a fun filled day of kayak and canoe racing and leisurely paddling on an idyllic blackwater river by the biggest Suwannee River Basin city.
New sponsors: the YMCA on Gornto Road, and the Girl Scouts of Historic Georgia, with aerial drone photography by The Georgia Photography Fanatic, and food by Under Construction BBQ, plus at the turnaround walk up to The Salty Snapper.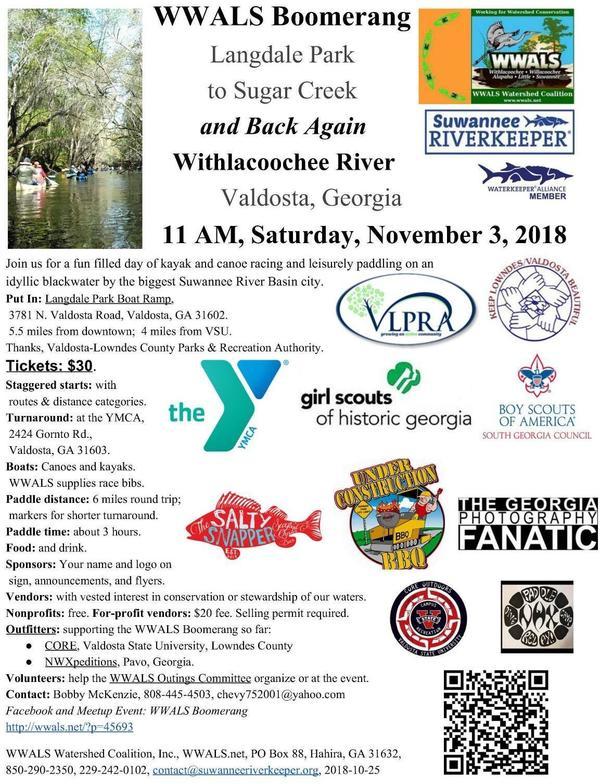 Follow this link for a printable PDF flyer.
Or this link for the same flyer 2 per page.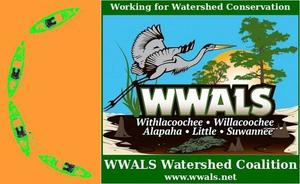 Event: facebook, meetup, but don't forget to get tickets!
Tickets: $30 per boat.
We also recommend Continue reading →