Join us as we camp two nights and paddle the Upper Suwannee River, between the Okefenokee National Wildlife Refuge and Fargo, Georgia, around Griffis Fish Camp, on the Suwannee River Wilderness Trail.
When: 4:00 PM, Friday, February 15, 2019, Camping, Griffis Fish Camp
Put In: Gather 8AM, launch 9AM, Saturday, February 16, 2019, Griffis Fish Camp to Fargo Boat Ramp
Gather 8AM, launch 9AM, Sunday, February 17, 2019, Suwannee River Sill to Griffis Camp
GPS: for Griffis Fish Camp: 30.782505, -82.4436
Take Out: Friday camping,
Saturday take out at Fargo,
Sunday take out at Griffis Camp.
Bring: a tow rope and the usual personal flotation device, boat paddles, food, drinking water, warm clothes, and first aid kit. Also trash pickers and trash bags: every WWALS outing is also a cleanup.
Free: This outing is free to WWALS members, and $10 (ten dollars) per day for non-members. We recommend you support the work of WWALS by becoming a WWALS member today!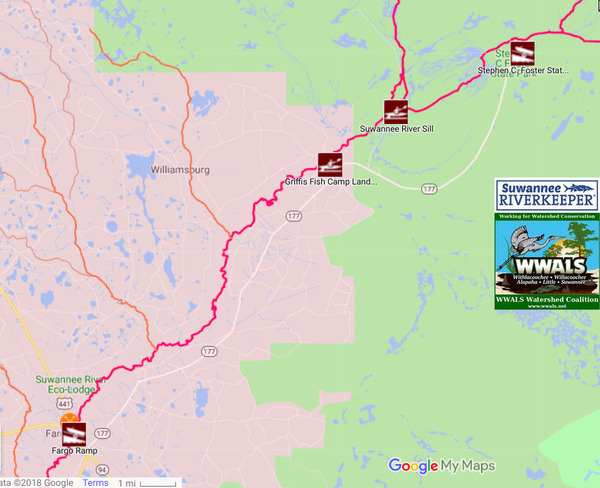 Continue reading