Matanzas Riverkeeper Jen Lomberk, St. Johns Riverkeeper Lisa Rinaman, Miami Waterkeeper Staff Attorney Kelly Cox presented a panel on Keeping Watch Over Our Waters: Florida's Riverkeepers, on the agenda for PIEC 25.

Miami Waterkeeper attorney Kelly Cox
Also in the room were Suncoast Waterkeeper Andy Mele, Lake Worth Waterkeeper Reinaldo Diaz, Apalachicola Riverkeeper Georgia Ackerman, Suwannee Riverkeeper John S. Quarterman, and WWALS Science Committee Chair Tom Potter.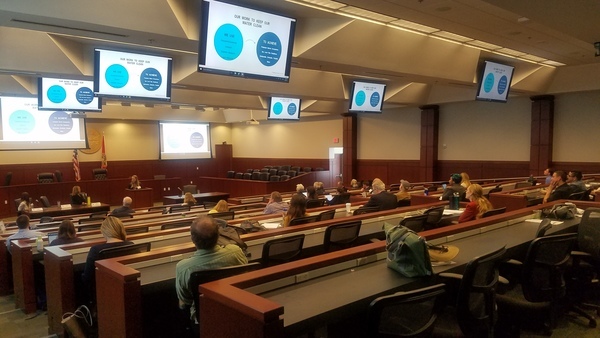 Our Work to Keep our Water Clean
Last to speak on the panel was Waterkeepers Florida Chair Lisa Rowe Rinaman.

St Johns Riverkeeper Lisa Rowe Rinaman
The first in-person board meeting of the newly-formed Waterkeepers Florida is today at noon.
This was another interesting panel.

SRO for Prof. Diane Rowland Chair Agronomy, UFL
-jsq, John S. Quarterman, Suwannee RIVERKEEPER®
You can join this fun and work by becoming a WWALS member today!
Short Link: