Our First Prize winner from the First Annual Suwannee Riverkeeper Songwriting Contest, Laura D'Alisera, has agreed to play at Paddle Georgia in June 2019, which will be good publicity for the Second Annual Contest in August 2019.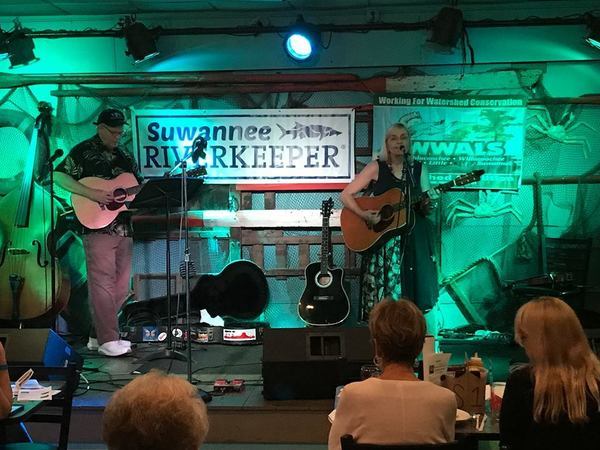 Photo: Bret Wagenhorst, of Laura D'Alisera performing at the First Annual Suwannee Riverkeeper Songwriting Contest at the Salty Snapper, Valdosta, GA, June 23, 2018.
Two weeks ago Laura drove an hour and a half from Jacksonville, Florida to Live Oak for a very productive Committee meeting, which also included Tom H. Johnson who came four hours from Pine Mountain, Georgia. Laura liked it so much she volunteered to join the Committee, and the WWALS board later unanimously approved that.
Come on over to Live Oak this Sunday to help organize the Second Annual Suwannee Riverkeeper Songwriting Contest!
When: 6PM, Sunday, February 17, 2019
Where: China Town Chinese Restaurant, 1546 Ohio Ave South, Live Oak, FL 32064-4514
Last time, the Committee decided to ask The Salty Snapper to host the Contest again. Justin Stephens, Director of Operations for the Manwell DeCoudres Restaurant Group, has since agreed to hold the Second Annual Contest at The Salty Snapper in Valdosta. The Committee is aiming at 1-5PM, Saturday, August 24, 2019, with soundcheck at 11AM.
Maybe you'd like to join the committee? You don't have to drive four hours to attend committee meetings: most decisions are made via email, and we have dialin for meetings.
-jsq, John S. Quarterman, Suwannee RIVERKEEPER®
You can join this fun and work by becoming a WWALS member today!
Short Link: