Update 2021-06-24: Suwannee River Sill, Griffis Fish Camp 2019-12-08
Kayak Raffle Drawing 2019-12-07
Come camp at Griffis Fish Camp Friday, paddle 14 miles to Fargo Saturday, camp again, and paddle 7.5 miles Sunday from Stephen C. Foster State Park in the Okefenokee Swamp, back to camp, all on the blackwater Suwannee River. And see the drawing for the kayak raffle for a Perception Swifty Deluxe 95 Angler Sit Inside Kayak!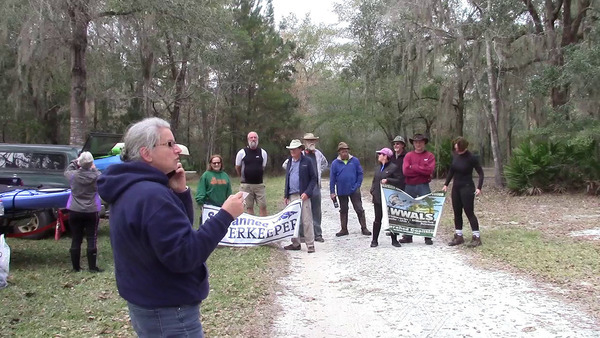 Photo: Gretchen Quarterman for WWALS. WWALS Kayak Raffle Drawing at Griffis Fish Camp, 2018-12-09.
When: 4:00 PM Friday, December 6, 2019, camp at Griffis Fish Camp
9:00 AM Saturday, December 7, 2019, paddle down to Fargo Ramp
8:30 AM Sunday, December 8, 2019, paddle from Stephen C. Foster State Park Ramp back to camp
Where: Griffis Fish Camp, 10333 Ga Highway 177 Fargo, Georgia 31631, in Clinch County.
From Fargo, travel south on US 441 to CR 177; turn left and travel 10 miles northeast; Griffis Fish Camp is on left.
GPS: 30.728505, -82.4436

Sandy Suwannee downstream from Tatum Creek by John S. Quarterman for WWALS, on Southwings flight, pilot Allen Nodorft, 2019-10-05 12:04:13, 30.7161810, -82.5134767
Bring: You must wear a PFD and have a tow rope. Also boat, paddles, food, drinking water, warm clothes, and first aid kit. Also trash pickers and trash bags: every WWALS outing is also a cleanup.
Free: This outing is free to WWALS members, and $10 (ten dollars) for non-members for each day. So if you paddle Saturday and Sunday and you are not a member, that will be $20. Becoming a member is only $25…. We recommend you support the work of WWALS by becoming a WWALS member today!
Park fees: Griffis Fish Camp charges for camping or river put-in.
There is a $5 park entry fee at Stephen C. Foster State Park.
Camping: If you want to camp at the State Park, reserve well in advance through ReserveAmerica.
If you don't want to camp, there are cabins at the State Park, and the nearby Eco-Lodge has heated hotel rooms.
Event: facebook, meetup Continue reading →