Update 2019-11-22: Some pictures.
Join us to clean up trash at Nankin Boat Ramp in Lowndes County, Georgia. Bring a boat and join us paddling down the Withlacoochee River, continuing cleanuing up. We will stop at second-magnitude McIntyre Spring in Brooks County, Georgia, which should be flowing fine about now. Thanks to special permission from Madison County, Florida, we will take a few vehicles down to the river at the end of the Four Freedoms Trail to collect an abandoned canoe and other items, and we will take out there.
When: Gather 9:00 AM, launch 10 AM, Saturday, November 16, 2019
Put In: Nankin Boat Ramp, 6899 Clyattville-Nankin Rd, Valdosta, GA 31601, in Lowndes County.
Take Out: Four Freedoms Trail, NE Peppermint Trail, Pinetta, FL, Madison County.
Bring: the usual personal flotation device, boat paddles, food, drinking water, warm clothes, and first aid kit. Also trash pickers and trash bags: every WWALS outing is also a cleanup, especially this one.
Free: This outing is free to WWALS members, and $10 (ten dollars) for non-members. We recommend you support the work of WWALS by becoming a WWALS member today!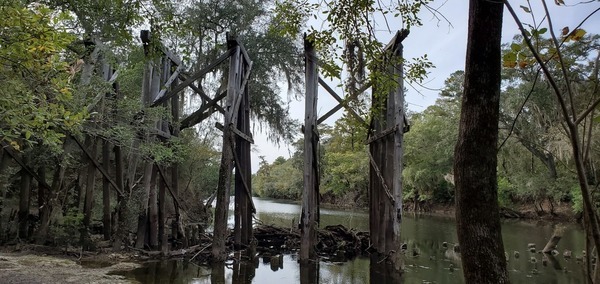 Photo: John S Quarterman, Upstream under the abandoned railroad trestle, at the end of Four Freedoms Trail, 2019:10:17 15:59:44, 30.6294432, -83.3186451
Duration: 5 hours
Shuttle distance: 7.3 miles
This outing includes the traditional WWALS shuttle. Everybody takes their boats to the put-in, most people drive to the take-out, and the drivers pile into one or two vehicles and go back to the put-in.
We can only take a few vehicles down to the end of the FFT at the Withlacoochee River. Everybody else can park at the Four Freedoms Trail parking lot at the corner of NE CR 125, where Coody Road becomes NE Persimmon Drive. Most of us will take out at FFT.

Photo: John S. Quarterman, Sign, tables, and roof at Four Freedoms Trail parking area, 2019:10:17 16:10:42, 30.6075603, -83.3549072
Brave souls can continue across State Line Shoal to State Line Ramp.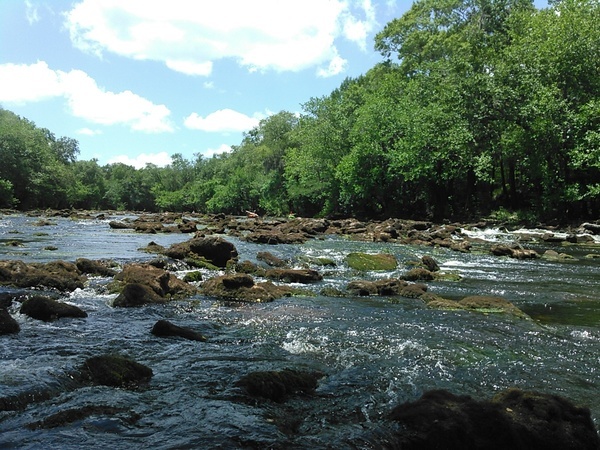 Photo: John S. Quarterman, State Line Shoal, Withlacoochee River, 2016-07-09, 30.6345577, -83.3415604
Shuttle duration: 36 minutes round trip
Paddle distance: 6 miles
Paddle duration: 2 hours
Host: Dan Phillips
Contact: Dan Phillips
Backup: in case of high or low water is: Clean up at Nankin then drive to FFT for clean up; no boats for the backup.
More: For more WWALS outings and events as they are posted, see the WWALS calendar or the WWALS outings and events web page. WWALS members also get an upcoming list in the Tannin Times newsletter.
-jsq, John S. Quarterman, Suwannee RIVERKEEPER®
You can join this fun and work by becoming a WWALS member today!
Short Link: