Here's the narrative we sent Thursday in the WWALS pre-application to the Georgia Outdoor Stewardship Program (GOSP) (many more details are on the WWALS website):
---
A Troupville River Camp will attract paddling and fishing enthusiasts of all ages. The property is located at the Confluence of the Little River with the Withlacoochee River, off of I-75 and GA 133 just west of Valdosta, the biggest city in the Suwannee River Basin. Proposed amenities include air-conditioned bathrooms, hot and cold running water, five screened sleeping platforms, picnic tables and benches, outdoor fire pits, and paddle boat racks for canoes, kayaks, and paddle boards, with river access near the Confluence.

Paddlers departing in the Confluence Viewscape
The location is historic, where Troupville was the former Lowndes County seat before Valdosta, from 1833 to 1860. The property has been privately owned since then and is now available for purchase for this purpose.

Map of Troupville, GA adapted from C.S. Morgan, in Ray City History Blog, 9 February 2014, Map of Old Troupville, GA with Notes on the Residents.
jsq note: the scale of the streets on this map is too large; few of them extended onto the subject property;
thanks for clarification by Wiregrass Region Digital History Project (WRDHP).
The Land Between the Rivers has white sand beaches, palmetto thickets, cypress stands, and towering oak and longleaf pine trees. Situated between two blackwater rivers that also have histories of transportation and recreation, the site offers a genuinely "wild" experience within a mile of an interstate highway.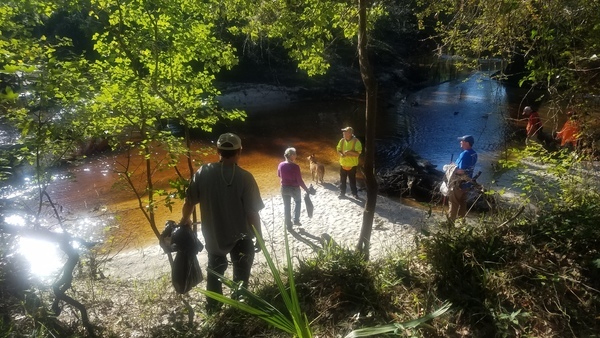 Red, yellow, white, blue, 10:09:03,
Photo: John S. Quarterman at Troupville Cleanup, 2018-10-13, 30.8454610, -83.3467969
The property is large enough to hold both a secluded paddle-in-only River Camp and hiking and biking trails, and even a frisbee golf course. It is an ideal outdoor classroom for classes on art, history, and the natural environment.

Concept Plan by ASA Engineering
The bathrooms will provide environmental benefit, preventing much unfortunate use of the woods, and keeping the rivers cleaner. The property will serve as a center for water quality testing, which could help resolve the stigma of Valdosta's chronic wastewater spills, which have affected the Little, Withlacoochee, and Suwannee Rivers all the way to the Gulf.

Ramp to bathrooms at Dowling Park River Camp
The private owner of these 74.14 acres of floodplain and 1.3 miles of river frontage is actively promoting selling it for this project, including on TV and in presentations to local elected and appointed boards. The property is next to the existing 49.36 acre park immediately to the north at Troupville Boat Ramp, operated by Valdosta-Lowndes County Parks & Recreation Authority (VLPRA), for 120+ acres of park destination for locals and traveling outdoors enthusiasts.

Helen Tapp on WCTV 2019-06-17.
Most maintenance will be by a caretaker in exchange for RV parking space. Thus a relatively small initial capital investment will enable long-term eco-tourism with economic and environmental advantages, at little operational cost.

Elevated platform at Dowling Park River Camp
Our model is the five existing River Camps on the Suwannee River in Florida that have long been popular as part of the Suwannee River Wilderness Trail (SRWT). This Troupville River Camp will facilitate paddle trips on our Withlacoochee and Little River Water Trail (WLRWT), starting upstream from this Confluence, on either the Little or Withlacoochee Rivers, continuing down the Withlacoochee to Florida and the Suwannee River, connecting with the SRWT River Camps.
This Troupville River Camp will be a significant public relations boon, not just to Lowndes County or Valdosta, but to the entire region and the states of Georgia and Florida. We have support from the City of Valdosta and several surrounding counties in Georgia and Florida, plus cooperation from personnel at several agencies of both states.
See also: https://wwals.net/?p=49834
---
What do you think?
-jsq, John S. Quarterman, Suwannee RIVERKEEPER®
You can join this fun and work by becoming a WWALS member today!

WLRWT Sign for Troupville Boat Ramp
Short Link: