The fifth or sixth year could be the charm, as a fracking ban was among the first 100 bills filed in the Florida Senate. Here's who you can call to help get this bill passed.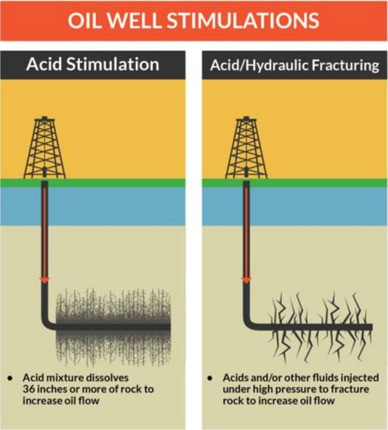 Source: Leong, V.H. & Ben Mahmud, H. J Petrol Explor Prod Technol (2019) 9: 753. https://doi.org/10.1007/s13202-018-0496-6.
Florida S.B. 200 would ban all forms of fracking, including matrix acidization. It was introduced by Sen. Bill Montford and passed unanimously the committee he chairs, on November 4, 2019.
Two days later, an article appeared in Forbes claiming matrix acidization is not really fracking:
SB 200 would also ban the well-stimulation process known as "matrix acidization," which has been used by some Florida operators as an alternative to fracking. That process uses large volumes of acid to dissolve rock in the target formation, rather than injecting water at high pressure to break up the rock, which is how fracking works. The acidization process has been used to moderate success by some operators drilling into the "Sunniland Shale" formation that runs beneath parts of the state.
Injecting acid underneath the Floridan Aquifer from which we all drink: not a good idea by any name.
Who should help convince the relevant committees and the Senate and House: the governor. It's been a year since he was elected, promising to ban fracking. You can ask him to get on with it.
You can call Governor Ron DeSantis at 866-846-4075.
David Blackmon, Forbes, 6 Nov 2019, Florida Fracking Ban Bill Is A Classic Government Solution In Search Of A Problem
No operators are currently employing fracking operations in Florida, and that has been the case for several years now. The 2019 effort arose following the 2018 gubernatorial election campaign, during which eventual winner Ron DeSantis, a Republican, said he opposed fracking operations in Florida. But despite the apparent support of a very popular Governor—DeSantis had a whopping 72% public approval rating in a recent poll conducted by the University of North Florida's Public Opinion Research Lab—Republicans in the legislature, along with some Democrats, have been reluctant to get on board with an outright ban.
Actually, a fracking ban is a classic example of government acting on behalf of all the people to protect a common good, in this case our water supply and Florida's environment and economy.
The Chair of the Committee on Environment and Natural Resources, Sen. Bill Montford, represents Hamilton and Madison Counties in the Suwannee River Basin, among many others.
S.B. 200 is currently in the Committee on Innovation, Industry, and Technology, chaired by Senator Wilton Simpson of Citrus, Hernando, and Pasco Counties, of the Withlacoochee (South) River. Also on that Committee is Senator Rob Bradley, of Bradford, Union, Baker, Columbia, Suwannee, Lafayett, Gilchrist, Dixie, and Levy Counties, all in the Suwannee River Basin, plus Clay and a bit of Marion.
Then it has to go through the Committee on Appropriations, which is chaired by Bradley, with Simpson as Vice Chair. So Bradley and Simpson would seem to be the most important Senators to convince.
Sen. Rob Bradley: Toll Free (888) 347-3483
Sen. Wilton Simpson: (850) 487-5010
Sen. Montford is also on Appropriations, as is one of his co-introducers, Senator Linda Stewart of Orange County.
SB 200: Advanced Well Stimulation Treatment GENERAL BILL by Montford ; (CO-INTRODUCERS) Stewart ; Rader ; Berman ; Taddeo
---

       Florida Senate - 2020                                     SB 200
       By Senator Montford
       3-00108A-20                                            2020200__
    1                        A bill to be entitled                      
    2         An act relating to advanced well stimulation
    3         treatment; amending s. 377.19, F.S.; defining the
    4         terms "high-pressure well stimulation" and "matrix
    5         acidization"; creating s. 377.2405, F.S.; prohibiting
    6         the performance of high-pressure well stimulation or
    7         matrix acidization; providing that permits for
    8         drilling or for operating a well do not authorize the
    9         performance of high-pressure well stimulation or
   10         matrix acidization; providing applicability; providing
   11         an effective date.
   12          
   13  Be It Enacted by the Legislature of the State of Florida:
   14  
   15         Section 1. Present subsections (6) through (10) and (11)
   16  through (32) of section 377.19, Florida Statutes, are
   17  redesignated as subsections (7) through (11) and (13) through
   18  (34), respectively, new subsections (6) and (12) are added to
   19  that section, and subsection (5) of that section is amended, to
   20  read:
   21         377.19 Definitions.—As used in ss. 377.06, 377.07, and
   22  377.10-377.40, the term:
   23         (5) "Gas" means all natural gas, including casinghead gas,
   24  and all other hydrocarbons not defined as oil in subsection (17)
   25  (15).
   26         (6) "High-pressure well stimulation" means all stages of a
   27  well intervention performed by injecting fluids into a rock
   28  formation at a pressure that equals or exceeds the fracture
   29  gradient of the rock formation and the purpose or effect is to
   30  fracture the formation to increase production or recovery from
   31  an oil or gas well, such as in hydraulic fracturing or acid
   32  fracturing.
   33         (12) "Matrix acidization" means all stages of a well
   34  intervention performed by injecting fluids into a rock formation
   35  at a pressure below the fracture gradient of the rock formation
   36  and the purpose or effect is to dissolve the formation to
   37  increase production or recovery from an oil or gas well. The
   38  term does not include techniques used for routine well cleanout
   39  work, well maintenance, removal of formation damage due to
   40  drilling or production, or acidizing techniques used to maintain
   41  or restore the natural permeability of the formation near the
   42  wellbore.
   43         Section 2. Section 377.2405, Florida Statutes, is created
   44  to read:
   45         377.2405 Advanced well stimulation treatments.—
   46         (1) PROHIBITION.—The performance of high-pressure well
   47  stimulation or matrix acidization is prohibited in this state. A
   48  permit for drilling or operating a well does not authorize the
   49  performance of high-pressure well stimulation or matrix
   50  acidization.
   51         (2) APPLICABILITY.—This section applies only to wells
   52  regulated pursuant to this chapter.
   53         Section 3. This act shall take effect upon becoming a law.

---
-jsq, John S. Quarterman, Suwannee RIVERKEEPER®
You can join this fun and work by becoming a WWALS member today!
Short Link: