Update 2020-03-16: More testing needed to track river pollution –Suwannee Riverkeeper in Gainesville Sun 2020-03-16.
No rain for a week (since March 5th) meant not much E. coli washed into creeks and rivers.
WWALS is testing upstream this weekend. You can help.

WWALS Composite table
For context and the entire WWALS composite spreadsheet of data from Georgia and Florida sources, see https://wwals.net/issues/testing/.
Apparently the high numbers WWALS saw on Crooked Creek Saturday a week ago (March 7th) washed on down through Okapilco Creek and Brooks County to the Withlacoochee River by Monday. Apparently that contamination got diluted pretty quickly by all that rainwater coming down from as far north as Tifton.
The most recent numbers we have are Valdosta's for Wednesday, March 11, 2020, with Knights Ferry, Nankin, and State Line Boat Ramps only slightly above the longterm desired limit of 126 cfu/100 mL E. coli, and below that upstream.
Madison Health tested Tuesday, and got actually slightly lower (135.4) at State Line, and below 126 at CR 150 (Sullivan Launch) and FL 6 (upstream from Madison Blue Spring).
Nobody tested downstream from there in the past week. Nobody knows whether any of the most recent contamination reached the Suwannee River.

Quitman and Valdosta to Suwannee River
In the WWALS map of the Withlacoochee and Little River Water Trail.
The USGS gauges upstream from US 84 peaked days ago, and the US 84 (Quitman) gauge is coming down now, soon to be out of minor flood stage.
The Pinetta (CR 150) gauge is just finally peaking.
During this pause, WWALS will continue pursuing the sources of these waves of contamination. We found some interesting information already this week, which we will follow up.
These recent contamination episodes are almost certainly not from Valdosta. While we all thank Valdosta for testing three times weekly all the way down to the state line, there is still more Valdosta needs to do, as I reminded Valdosta Mayor Scott James on his radio show Thursday.
The recent contamination did not come from the Lowndes County government, which has its own sewer system, which has not spilled in many months. Lowndes County and WWALS pioneered the testing at Knights Ferry and on Okapilco Creek that determined the contamination seems to be coming mostly from Brooks County.
Brooks County has no sewer system.
Quitman has a Land Application Site and sewage settling ponds. While at this point the main evidence does not indicate these as a source for thepast year, we have been pursuing contacts there, and potential nearby additional testing points.
The preponderance of the evidence at this time points to ruminants, of which the only ones numerous enough where the high numbers start are cows.
It's worth reiterating that while the main sources lately seem to be in Georgia, there are other likely sources in Florida, which is yet another reason we need testing up and down all our rivers all the time.
Please continue to contact your local and state elected officials in Florida and Georgia to ask for funding and personnel for frequent (several times a week) testing at closely-spaced stations along all our rivers, with timely online publication. And water well testing, too.
You can help WWALS test water quality by donating to our WWALS water quality testing program. Or maybe you know a bank or other source of larger financial support.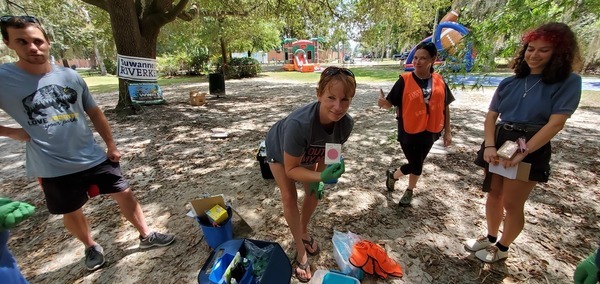 Suzy Hall with a Petrifilm.
Each bacterial test costs $6 for Petrifilms alone.
WWALS is spending about $40 a day on Petrifilms and other materials after this Valdosta spill.
Maybe you want to get trained and help test; if so, follow this link.
-jsq, John S. Quarterman, Suwannee RIVERKEEPER®
You can join this fun and work by becoming a WWALS member today!
Short Link: