Update 2020-03-13: No WWALS booth at festivals rest of March 2020 due to virus. No, we will not be at Azalea Festival.
Join WWALS to celebrate spring with 30,000 of our south Georgia and north Florida friends, at the Azalea Festival in Valdosta, Lowndes County, Georgia. We will have information about our outings and advocacy (yes, including Valdosta wastewater), and pictures for sale Gretchen took of our rivers, plus a kayak raffle.
When: 10AM-6PM Saturday 14 March 2020
10AM-5PM Sunday 15 March 2020
Free: No admission charge.
Volunteer: WWALS members can help at the table!
Where: Drexel Park
30.846771, -83.285066
1401 N. Patterson at W. Brookwood Drive, Valdosta, GA 31601
(east across Patterson from VSU front lawn; north across Brookwood from VSU Center)
That's on One Mile Branch, which flows into Sugar Creek, then the Withlacoochee River, the Suwannee, to the Gulf of Mexico.
Drexel Park is upstream of Wainwright Drive, where WWALS did a cleanup in November 2017, and Valdosta spilled 218,075 gallons of raw sewage. You can help with cleanups or water quality testing.
Event: facebook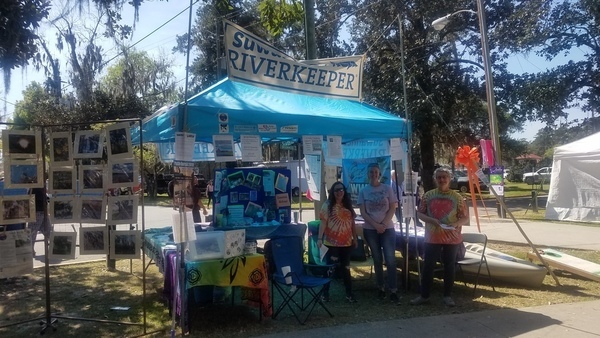 Photo: John S. Quarterman for WWALS, of Sara Jay, Laura Bauer, Gretchen Quarterman, at WWALS Booth, Azalea Festival, 2019
What: Visit Valdosta, Azalea Festival,
Enjoy shows, contests, food court, art & craft vendors and live entertainment. It's a packed weekend for a great getaway excursion. And parking is free at Continue reading →