Good turnout for the One Mile Branch Cleanup at VSU, including the new Valdosta Utilities Director, Darryl Muse, and his wife. Thanks Scotti Jay for organizing this outing, including bringing a cart for the materials and going back with a pickup truck to collect the bags of trash.
There were waterfalls just like Scotti said, Tom Potter fished a lawn chair out of the creek, we celebrated Armistice Day, we took some pictures with the Suwannee Riverkeeper banner, and we heard a word from Valdosta's Utilities Director, all in addition to picking up a lot of trash for two hours on a cold windy November day.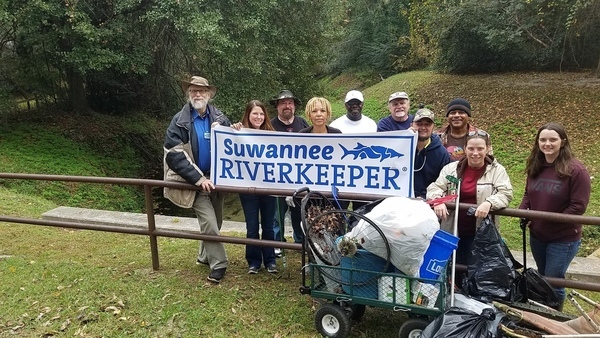 Scotti Jay said there were waterfalls, and here they are.
Always carry a banner.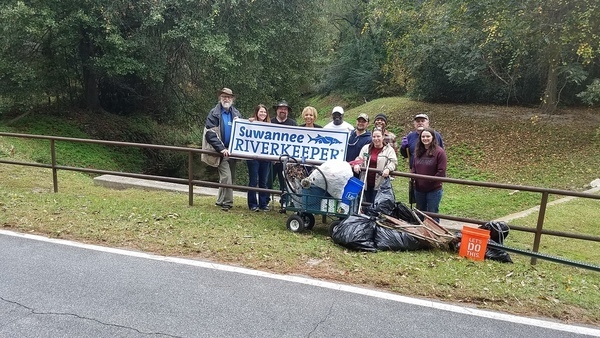 A lawn chair and a signpost.
On the eleventh hour of the eleventh day of the eleventh month, everyone paused for a moment of remembrance. Ninety nine years ago the guns fell silent as the Armistice took effect ending World War I, the Great War, the War to End All Wars.
I told the story of how a dozen years ago Gretchen and I, in Auckland, New Zealand, happened to go to the Auckland Museum, and only then realized it was that hour and day, and we were in a war museum.
On the wall were the names of some of my distant cousins, and many more. One fifth of all male New Zealanders served in that war: 100,000 of them, of whom 60,000 never came back. The entire upper floor of the museum was taken over by a comemoration ceremony, involving many folks in uniforms and medals and a Maori in traditional dress marching with them.
Also on the wall was this inscription:

Let these panels never be filled.
My wish for yesterday, Veteran's Day was:
"Let these panels never be filled."
Since we were on Wainwright Drive, where Valdosta has had several sewage spills, I had asked Darryl Muse to say a few words about improvements Valdosta has been making to its Sanitary Sewage System, which is famous downstream all the way to the Gulf.
The new Valdosta Utilities Director said that in 2015 there were 26 spills (presumably city-wide), and the city decided it had to do something. Valdosta has spent about $60 million upgrading its Sanitary Sewer System.
As a result in 2016 there were 50 spills (presumably city-wide), and this year there have been six. He said they were trying to get that number down to zero.
He said some of those spills were pretty significant, 199,000 gallons, etc. So far this year, he said there have been 6,000 gallons. Presumably he means manhole cover spills, since the January WWTP spill was 2.5 million gallons.
He said that was significant progress, but there was still work to do. He says it will cost about $300 million to get the sewer system in the condition he thinks it should be in "to be sustainable for the community." The city is working with GEMA trying to get additional funding, and they will probably be asking the voters for funding again when SPLOST comes back up again.
He said cleanups like this go a long way, and he'd be here with us.
Then we picked up trash for another hour.
-jsq, John S. Quarterman, Suwannee RIVERKEEPER®
You can join this fun and work by becoming a WWALS member today!
Short Link: