Update 2020-03-26: Hamilton, Madison Counties Health Lift Advisory for the Withlacoochee River 2020-03-26.
Suzy Hall's Sunday testing at State Line Boat Ramp started the good news this week.
So WWALS can continue testing, WWALS Executive Director Gretchen Quarterman just bought another case of Petrifilm, to the tune of $753.25. That's a big buy for a tiny nonprofit such as WWALS. You can help.

Suzy Hall retrieving test bucket at State Line Ramp 2020-03-22
The Withlacoochee River is clean this week, and even Okapilco Creek is cleaner than it sometimes is.

Clean Sunday through Tuesday
For context and the entire WWALS composite spreadsheet of Georgia and Florida data, see wwals.net/issues/testing/.
At State Line Boat Ramp, Suzy Hall for WWALS, the City of Valdosta, and Madison Health all got well below the 126 cfu/100 mL E. coli limit for longterm averages, Sunday, Monday, and Tuesday. Even Knights Ferry Boat Ramp was clean. See also what do these numbers mean?
So what happened to the 7,200 cfu/100 mL E. coli I got on Crooked Creek at Devane Road Friday? Maybe it got deleted by all the water still coming downstream in Okapilco Creek and the Withlacoochee River. Maybe it made its way downstream Saturday and early Sunday before Suzy tested. We don't know, because nobody tested Saturday or early Sunday.

Much better than Friday Crooked Creek
Here's a map for context.

Quitman and Valdosta to Suwannee River
In the WWALS map of the Withlacoochee and Little River Water Trail.
At least for Monday we didn't see a 2,100 at Knights Ferry Boat Ramp like Valdosta got for last Wednesday after rains.

Way better than Wednesday last week
Here's a video Suzy Hall took while she was collecting test water. She remarked, "Testing water today. This is social distancing at it's finest."
Sometimes there are dangerous things in the water other than E. coli, such as serpents. Suzy noted that this is a water snake, and indeed a venemous cottonmouth moccasin, which was deceased before she got there. She added, "There are often children at this ramp. I'm not all that hurt over this. And before you hate, I'm one of the first to say leave them alone."
Here is Suzy Hall's facebook post with her video and pictures of testing on Sunday, March 22, 2020.
Please continue to contact your local and state elected officials in Florida and Georgia to ask for funding and personnel for frequent (several times a week) testing at closely-spaced stations along all our rivers, with timely online publication. And water well testing, too.
You can help WWALS test water quality by donating to our WWALS water quality testing program. Or maybe you know a bank or other source of larger financial support.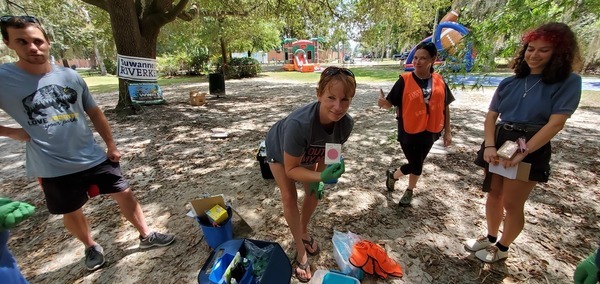 Suzy Hall with a Petrifilm.
Each bacterial test costs $6 for Petrifilms alone.
WWALS is spending about $40 a day on Petrifilms and other materials after this Valdosta spill.
Maybe you want to get trained and help test; if so, follow this link.
-jsq, John S. Quarterman, Suwannee RIVERKEEPER®
You can join this fun and work by becoming a WWALS member today!
Short Link: