Deadline today at midnight (11:59 PM, July 8, 2020) to send in your song. for the 2020 Suwannee Riverkeeper Songwriting Contest, on August 22, 2020.
Last year, Jay Jourden and band sang their Save Our Suwannee. Jay and his band from Ponte Vedra, Florida, swept the awards, winning a plaque for Best Newgrass Bluegrass, and $50 for Best Song from Outside the Suwannee River Basin, and the $300 First Prize, all for "Save Our Suwannee."
You could win this year!
"Yes, Jay submitted the same song the year before," said Suwannee Riverkeeper John S. Quarterman. "But last year he stopped in the middle, said he forgot some verses, and rattled off names of a whole bunch of rivers, all in perfect time. Naming rivers was one of the criteria, and it's a great song: Save Our Suwannee!"
The three judges are ready to hear your songs, 7-9 PM, Saturday, August 22, 2020, at the Turner Center Art Park, 605 North Patterson Street, Valdosta, Georgia 31601. Headliners will play, finalists will play, silent auction and kayak raffle, judges will judge, prizes will be awarded, winners will play M.C.: Scott James of Talk 92.1 FM Radio.
Thanks to Dirty Bird and the Flu for handling sound.
Tickets to listen are on sale now, $10 online (children under 12 free), or $12 at the door. For VIP tables send email to song@suwanneeriverkeeper.org.
We'll have a food truck, and a cash bar by The Pour House mobile bar.
Thanks to our top tier sponsor, Georgia Beer Company.
More sponsor opportunities are available. Sponsors get named in the program, on the stage, in the sponsor banner, online, on radio, TV, newspapers, etc., as well as other perks.
Here's Jay Jourden last year winning with Save Our Suwannee:

Video by Sara and Scotti Jay for WWALS Watershed Coalition (WWALS).
First Prize Winner Jay Jourden, Suwannee Riverkeeper Songwriting Contest 2019
Songs can be about the Suwannee River, or the Withlacoochee, Willacoochee, Alapaha, Alapahoochee, Little, New, Dead, or Gopher Rivers, Okapilco, Piscola, etc. Creeks, the Okefenokee Swamp, Grand Bay, or springs, sinks, swamps, or ponds. (But not the Santa Fe River; which has its own contest.)
For much more about the Suwannee Riverkeeper Songwriting Contest, see: https://wwals.net/pictures/2020-08-22–songwriting/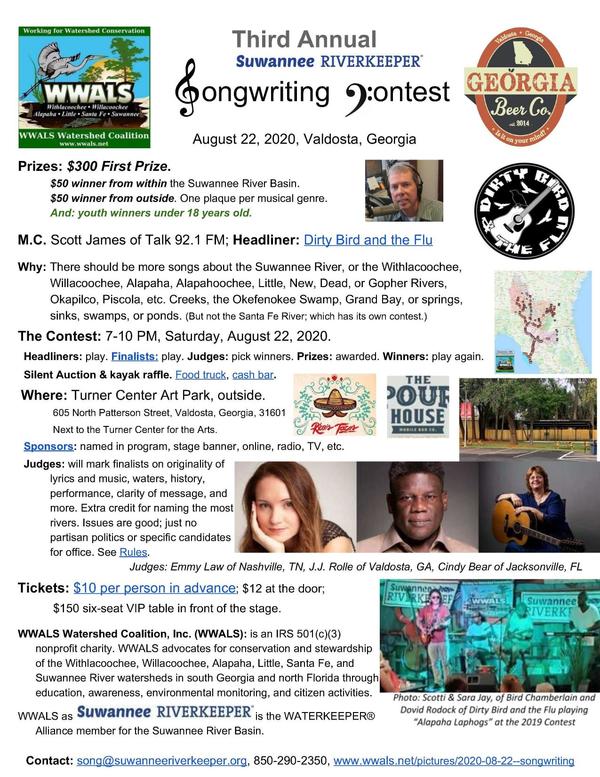 Suwannee Riverkeeper Songwriting Contest 2020
PDF
-jsq, John S. Quarterman, Suwannee RIVERKEEPER®
You can join this fun and work by becoming a WWALS member today!
Short Link: