Update 2020-12-16: Valdosta data: Quitman sewage spill, Okapilco Creek, Withlacoochee River
Quitman had a 125,000-gallon raw sewage spell Wednesday, December 9, 2020, appearing five days leter in yesterday's GA-EPD Sewage Spills Report. That's larger than the 87,000-gallon Quitman spill of 2020-04-24, when Valdosta's downstream results that same day showed 6,000 cfu/100 mL E. coli on Okapilco Creek, KF 15,000, Nankin 5,200, State Line 1,000; remember the Georgia Adopt-A-Stream alert limit is 1,000. We have reason to believe that April spill travelled all the way to the Gulf.
In the data we have at the moment, astonishingly this recent Wednesday spill does not seem to have affected the Withlacoochee River, much less the Suwannee River. However, we are still awaiting Wednesday and Friday data from Valdosta.

Quitman, lift station, Okapilco Creek, Withlacoochee River
Here's the report, as highlighted by WWALS automated software: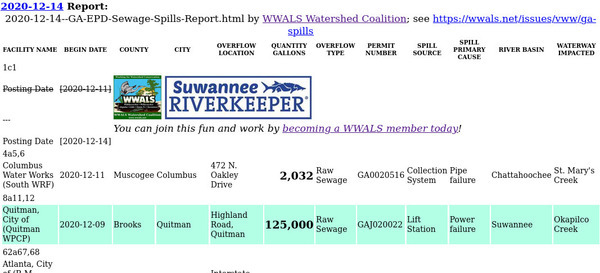 Quitman in GA-EPD Sewage Spills Report 2020-12-14
Where is this lift station on Highland Road? Unlike Adel, Quitman did not provide a street address.
Well, the City of Quitman owns land at two locations on Highland Road (or Street or Avenue, depending on which source you use): up north across from the cemetery and behind the animal shelter, where the settling ponds are, and south, just north of the railroad and west of the road.

Map: Quitman lift station S. Highland Rd.
in the WWALS map of the Withlacoochee and Little River Water Trail.
That south location sure looks like a lift station in the Brooks County Tax Assessors' picture for Parcel Q15 0045.

S Highland Road, City of Quitman
If the spill was at that South Highland Road location, that might help explain why downstream results by WWALS and Madison Health the next day, Thursday, showed no effects.

Quitman sewage spill, few effects seen
For context and the entire WWALS composite spreadsheet of Georgia and Florida water quality results, rainfall, and spills, see:
https://wwals.net/issues/testing/
Unless the sewage washed downstream that same day, as may have happened the previous week, when there were horrible numbers on Okapilco Creek, Knights Ferry, and Nankin, and even got 410 at the state line on Monday, November 30, 2020.

Bad downstream, week of November 29, 2020
There was rain in Brooks County before and during that (greenish highlighting in the middle of the chart). Although there was also rain upstream in Colquitt County. So that contamination of November 30 could have come from dairy cows or beef cattle.
And there was also very high contamination at GA 133 (yellow highlighting towards the top of the chart). Which nobody can explain other than somebody must be dumping into the river.
Or from feral hogs or even horses.
So many possibilities.
In this map you can see that while the likely Quitman lift station location on south Highland Road drains to Okapilco Creek eventually, the ponds on north Highland Road are next to the creek. the

Map: Quitman, Okapilco Creek, Withlacoochee River
And once Quitman sewage gets to Okapilco Creek, it's not many river miles to the state line.
But with the data we have right now, this most recent Quitman spill does not seem to have reached the state line.
-jsq, John S. Quarterman, Suwannee RIVERKEEPER®
You can join this fun and work by becoming a WWALS member today!
Short Link: