Update 2021-05-14: Good upstream, bad down, Withlacoochee River 2021-05-13.
We have mixed results for this week. Madison Health got a too-high single sample at the GA-FL line for Tuesday, May 4, but the other results by Valdosta and WWALS testers are all good. So we don't have enough recent data to say very confidently, but especially given almost no rain since Tuesday, most likely the Withlacoochee River is good for boating, swimming, and fishing.

GA 122, Cleary Bluff, Chart, Swim Guide
This Thursday, Elizabeth Brunner got zero (0) at Folsom Bridge on the Little River, 166 at Hagan Bridge on the Withlacoochee River, and 100 cfu/100 mL E. coli at Lakeland Boat Ramp on the Alapaha River, all on GA 122.

Little River @ Folsom Bridge, Withlacoochee River @ Hagan Bridge, Alapaha River @ Lakeland Boat Ramp
Those are all well below the Georgia Adopt-A-Stream 410 one-time sample limit, and all but one below the 126 average limit.

Mixed Results 2021-05-01-07
For context and the entire WWALS composite spreadsheet of Georgia and Florida water quality results, rainfall, and spills, see:
https://wwals.net/issues/testing/
Downstream, Gus Cleary for WWALS got zero at Cleary Bluff between Allen Ramp and the Withlacoochee River Confluence with the Suwannee River.

Still high Withlacoochee River, Cleary Bluff 2021-05-06
Upstream for Monday Valdosta got very low results for US 41, GA 133, and US 84.
We do not have new results for Knights Ferry, Nankin, or State Line Boat Ramps. Our usual WWALS testers are still out, and apparently Valdosta's downstream contractor is back to more than a week's delay in reporting results.
So Swim Guide shows mixed results, with Knights Ferry and Nankin timing out to historical mixed yellow, and State Line Boat Ramp still showing red.
Gus did lose something in the river a while back.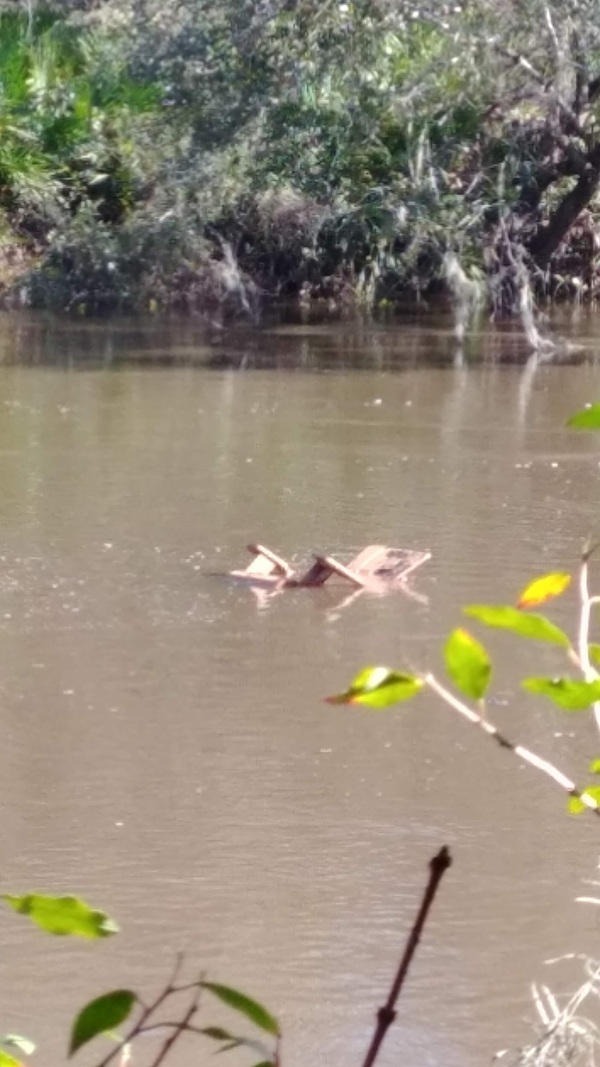 One that got away at Cleary Bluff
-jsq, John S. Quarterman, Suwannee RIVERKEEPER®
You can join this fun and work by becoming a WWALS member today!
Short Link: