Update 2021-07-28: Health Alert, Withlacoochee River, high Fecal coliform 2021-07-28.
Unusual results: too high E. coli at US 41 and GA 133 on the Withlacoochee River, good downstream and on the Little and Alapaha Rivers. Unexpected because with the heavy rain in Brooks County, Georgia, problems downstream might have been expected. I would paddle on the Withlacoochee River this weekend.

Chart, Up and Down Withlacoochee River, Map
We have no results from Valdosta newer than Monday upstream, and the previous week downstream. Also nothing from Madison Health since Tuesday a week ago.
But WWALS testers Valerie Folsom, Bobby McKenzie, and Gus Cleary filled the gap.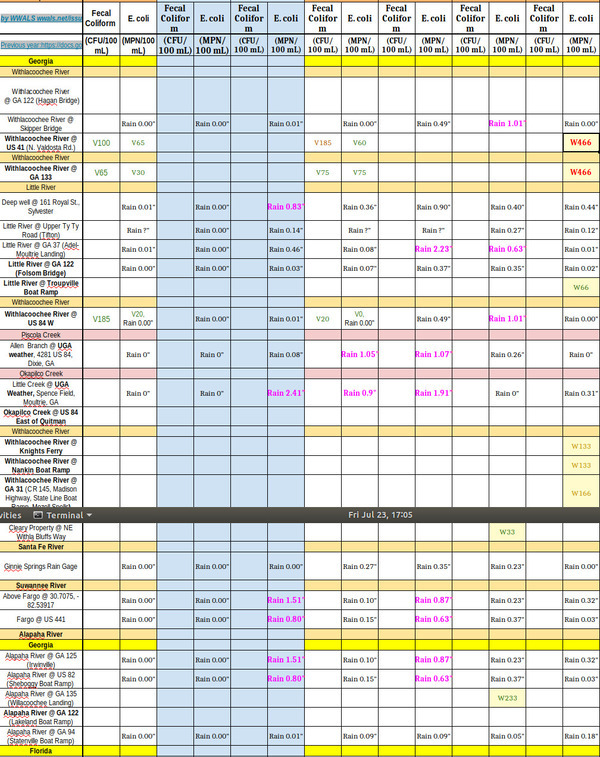 Upstream Bad, Downstream Good, Withlacoochee River Chart 2021-07-22
For context and the entire WWALS composite spreadsheet of Georgia and Florida water quality results, rainfall, and spills, see:
https://wwals.net/issues/testing/
And here's Swim Guide, mostly green.

Bad Up, Good Down, Withlacoochee River, Swim Guide 2021-07-22
-jsq, John S. Quarterman, Suwannee RIVERKEEPER®
You can join this fun and work by becoming a WWALS member today!
Short Link: