Update 2021-09-24: All clear, Withlacoochee River 2021-09-22.
All the water quality samples WWALS collected Wednesday and Thursday tested good for all three rivers: Little, Withlacoochee, and Alapaha.
However, later Thursday hard rains fell. As hard as those last Thursday that washed E. coli into the rivers. So there's a good chance the same thing has already happened, with contamination from livestock manure washing into the rivers.
So according to the results we have, I have to say all clear for boating, swimming, and fishing.
But according to experience, I'm not going on the Little or Withlacoochee Rivers this weekend.
FYI, no sewage spills have been reported. The contamination sources are most likely agricultural.
The Alapaha River is probably still good. And we have a paddle coming up Monday evening on Banks Lake, which is not downstream from anything, so it should be clean as usual. https://wwals.net/?p=56630

Chart: good results, hard rain 2021-09-16
For context and the entire WWALS composite spreadsheet of water quality data and rainfall, see:
wwals.net/issues/testing
Notice the Valdosta results from last Friday corroborate our WWALS warning that same day. Also notice how quickly Withlacoochee River water quality changed at the state line after Madison Health found it good in a Thursday sample last week.
So I've set green on Swim Guide for all the new data we have since last time. But remember those Thursday rains, and more rain is predicted.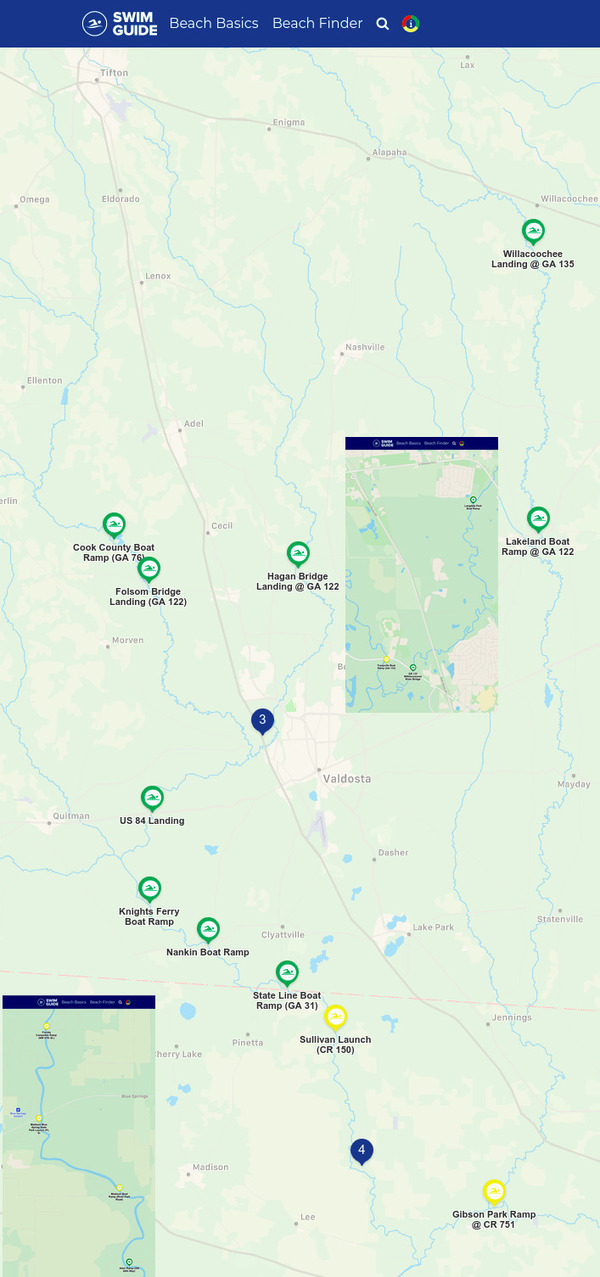 Map: Good water quality, then hard rain, Swim Guide 2021-09-16
Some WWALS "beaches", such as Troupville Boat Ramp, show yellow because we have no new data for them.
Thanks to Valdosta PIO Ashlyn Johnson for providing the Valdosta data.
We have no new data from Madison Health.
Thanks to the WWALS testers:
Elizabeth Brunner for the three GA 122 sites: Folsom Bridge on the Little River, Hagan Bridge on the Withlacoochee River, and Lakeland Boat Ramp on the Alapaha River.
Valerie Folsom for Willacoochee Landing @ GA 135 on the Alapaha River.
Josh Duncan for Knights Ferry, Nankin, and State Line Boat Ramps on the Withlacoochee River.
Gus Cleary for Cleary Bluff on the Withlacoochee River; that's why Allen Ramp shows green on Swim Guide.
Tasha Ekman LaFace for testing at Drexel Park last Saturday during water quality testing training, and also at Lake Alapaha Swim on the Alapaha River.
Gretchen Quarterman for training new testers and retraining old ones.
Bobby McKenzie for all the testing he did. Who wants to cover US 41, GA 133, and Troupville Boat Ramp now that his term as WWALS Intern has expired?
Suzy Hall, WWALS Testing Committee Chair, for herding these cats.
There are more images on the WWALS website.
-jsq, John S. Quarterman, Suwannee RIVERKEEPER®
You can join this fun and work by becoming a WWALS member today!
Short Link: