Update 2021-10-05: They did it again at the end of September!
Great relief was felt by the WWALS Sugar Creek cleanup crew, because Valdosta Stormwater has taken a hand at the Sugar Creek trashjam!

Trashjam Quartet by Angela Bray
You are all invited to come help clean up Sugar Creek on Saturday, October 9, 2021, at this same location behind the Salty Snapper on Gornto Road.
Meanwhile, thanks to Valdosta Stormwater for not just cleaning up, but starting some repeated steps to find out when this trashjam forms and where it's coming from.
This is the same trashjam that was pictured in Valdosta's 2010 Stormwater Master Plan, as discussed with Mayor Scott James on his radio show, August 12, 2021.
Finally, on Friday, September 16, 2021, Valdosta Stormwater Division got hands-on and cleaned up themselves!
Here's what Valdosta Stormwater Manager Angela Bray sent along with these pictures.

Angela Bray, Valdosta Stormwater Manager
And of course you can use any of the pictures sent.

Happy to help! Again, we will check this weekly and take pictures while also producing a map of the city that drains to that location and weekly rain data. We will keep a better eye on this eyesore and contribute to helping our waterways stay healthy and beautiful.

Thanks for making us aware and we're glad to do our part!

Angela
City of Valdosta Stormwater Manager

Scott Nobles, Valdosta Stormwater Supervisor
On the telephone Friday afternoon, Angela told me they had misadventures that seemed very familiar. Do we need a boat? Yes, go back and get one. Do we have a pool net? No, sure could use one. Can we reach that? No, limbs and vines in the way.
The four bags of trash were mostly plastic bottles: water and gatorade, with some small liquor bottles.
They couldn't get the styrofoam, because it was broken into too many small pieces.
So Stormwater had the full experience.
Although they were somewhat lucky. We got more than four bags on each of our WWALS Sugar Creek cleanups this year on April 17, July 10, and August 14.

Bobby McKenzie across trash jam by Russell McBride, 2021-07-10.
Not so many on May 15 with Mayor Scott James, since that was a paddle with lunch at the Salty Snapper.

Boats and beach, 13:08:36, 30.8633053, -83.3188517
Cleaning the trashjam weekly should keep it smaller.
Here's what I saw this Wednesday afternoon:

5:09 PM Wednesday trashjam; Photo: John S. Quarterman
I asked new Salty Snapper manager Nic Allen if cleanups on Salty Snapper property were OK. He said yes, please clean up Sugar Creek.
And here's what Bobby McKenzie saw Friday afternoon, after the Stormwater cleanup:

4:40 PM Friday much cleaner; Photo Bobby McKenzie
Quite a difference!
Tracking the Sugar Creek logjam weekly and comparing to detailed rainfall across Valdosta should also show more sources it is coming from.
Bobby already found one major upstream source: a parking lot on St. Augustine Road at Hightower Creek.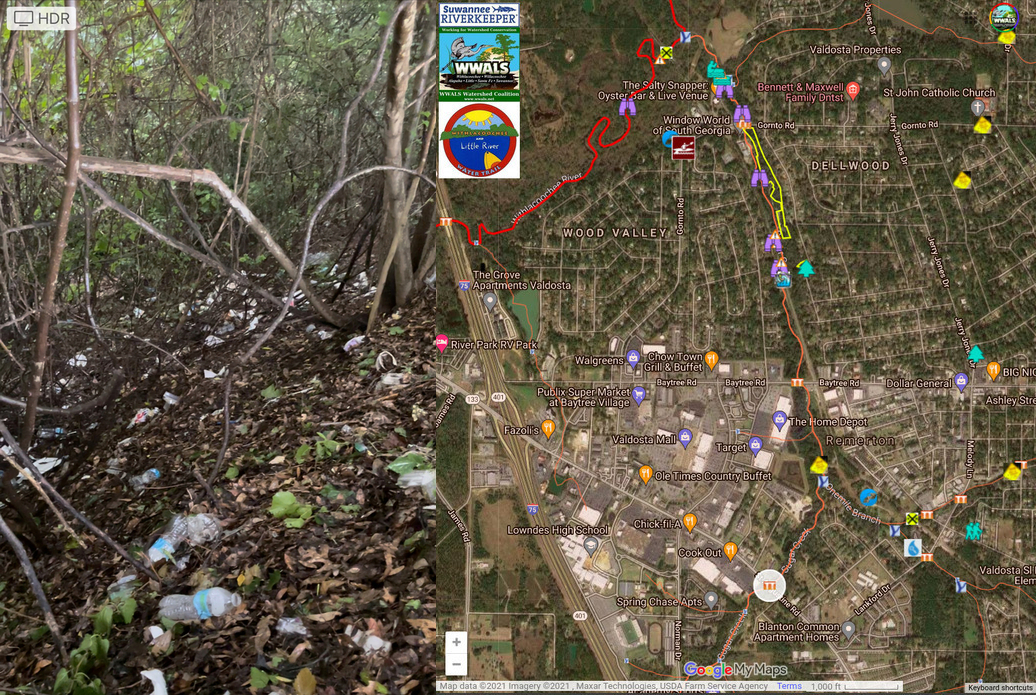 Trash heap, St. Augustine Road, Sugar Creek, Withlacoochee River
After Bobby reported that via Valdosta Click 'n' Fix, both Stormwater and Code Enforcement sent letters to the property owner. Much trash was cleaned up, but not the big mess down at Hightower Creek. But Bobby was persistent, and when the landowner realized the severity of the problem, changes were made. More on that in another post.
This is all progress on cleaning up Sugar Creek, which could be an urban waterway like Waller Creek in Austin, Texas, or even the Riverwalk in San Antonio.

Beautiful Sugar Creek, but trashed
As plans slowly coalesce for a Troupville River Camp and River Park downstream from Sugar Creek on the Withlacoochee River at the Little River Confluence, it sure would be nice not to have rafts of trash floating in on every flood and left hanging from the bushes. See the VLPRA Master Plan Presentation 2021-08-31.

Strategy 6: Access to Rivers, Provide Additional Amenities
Valdosta could still use some trash traps. We're working up a grant proposal for that, and here is some evidence of collaboration with the City of Valdosta to put in that proposal.
Valdosta still needs to enforce its own ordinances about things like trash cans in parking lots. More on that later.
Farther down the road there are styrofoam bans and bottle deposits to pursue, such as many other states and localities already have.
But for this week, many thanks to Valdosta Stormwater for pitching in!
And Saturday, October 9, 2021, come on down and see for yourself!
If Stormwater keeps it so clean there's nothing for us to do there, don't worry, there are other locations. People who live in Valdosta or Lowndes County, Georgia, or across the rivers in Brooks County: these are your home waterways. Trash in them is a health risk to you and your children. Floridians, all these locations are upstream from you.
"If you see it, it'll break your heart. In a deadfall it all gathers," said the Mayor on the radio.
Thanks again to Valdosta Stormwater for starting to help fix this Sugar Creek trash problem!
-jsq, John S. Quarterman, Suwannee RIVERKEEPER®
You can join this fun and work by becoming a WWALS member today!
Short Link: