Update 2022-01-10: Chitty Bend East Distributary, Withlacoochee River –Shirley Kokidko 2022-01-07.
What's underneath the Mystery: Withlacoochee River Distributary 2021-01-01? The M2 Blue cave system in Madison and Hamilton Counties, explored by Karst Underwater Research (KUR).
There's a "Gully / Swallet" marked on this KUR map of the M2 caves, very close to where the sinkhole at the end of the distributary. Both maps in this post are credited to KUR. Please follow the links for the rest of KUR's descriptions, pictures, and videos.

Gully / Swallet –KUR
7/9/2016 – M2 Blue Exploration –Andrew Pitkin, KUR
As you can see, the M2 Blue caves at this Gully / Swallet, and a bit north at a place called Fennel's Funnel, extend east across the Withlacoochee River into Madison County under SRWMD land in the Twin Rivers State Forest (TRSF). Caitlyn Peca of TRSF clued us in to the M2 cave system.
In the KUR overview of M2 Blue, it becomes clear that Fennel's Funnel (with another spelling) is a sinkhole in the Withlacoochee River itself:
The Fannell's Funnel entrance is in the Withlacoochee River and in addition to siphoning strongly when river levels are anything other than very low, visibility in the hundred feet or so of entrance passage is typically no better than 2-3 feet. The cave water is at a constant temperature of 68F, but the river temperature varies from being in the 50s in the winter to the mid 80s in the summer. Since almost all the decompression is done in the river water, and decompression times of 6 hours and more are becoming necessary with extended bottom times for exploration, this site is very much a seasonal one with exploration occurring only in the summer.

Fannell's Funnel; M2 Blue cave system –KUR
From that map, Fennell's Funnel or Fennel's Funnel appears to be on the Jasper-Greenville Power Line right of way, in the private land on the west (east) bank of the river in Madison County.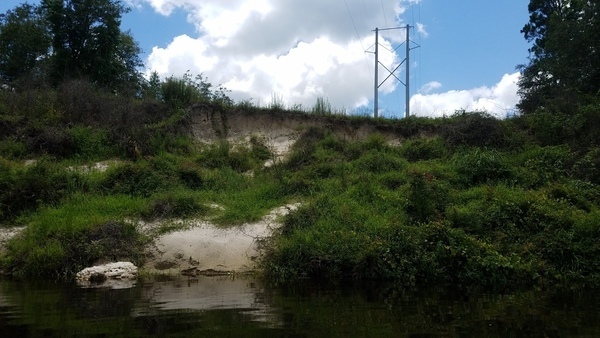 Power line, right bank, 30.5203671, -83.2399187 Photo: John S. Quarterman 2017-06-24.
Another place KUR also spells it Fennels Funnel with no apostrophe.
We'll add Fennels Funnel (with its aliases) to the WWALS map of the Withlacoochee and Little River Water Trail (WLRWT). With a warning: do not dive in there unless you really know what you are doing and never alone.
Also, it looks like we should contact Karst Underwater Research about all this.
-jsq, John S. Quarterman, Suwannee RIVERKEEPER®
You can join this fun and work by becoming a WWALS member today!
Short Link: