Update 2023-01-31: Phosphate and titanium mining, water withdrawals, and trash @ NCFRPC 2023-01-26.
The guest speaker Thursday evening at the North Central Florida Regional Planning Council (NCFRPC) was Troy Roberts, Communications and Outreach Manager for the Suwannee River Water Management District (SRWMD).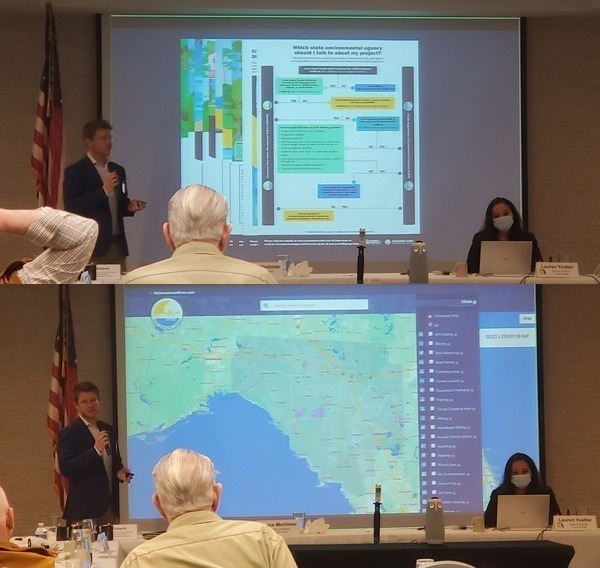 Permitting and Recreation –SRWMD @ NCFRPC 2023-01-26
While I'm sure he'd be willing to come speak to your organization, I'd like to mention a few things he talked about, namely permitting and recreation.
On the SRWMD website, https://www.mysuwanneeriver.com/, if you click on Permits, you get to Permit to Protect: Permits for your project, protection for our water.

Troy Roberts, SRWMD Photo: Stew Lilker, Columbia County Reporter
While I have some doubt about how much SRWMD actually protects our water (more on that later), I thank them for gathering all the permitting options in one place. Plus this handy decision tree: Which state environmental agency should I talk to about my project?

Which state environmental agency? –Troy Roberts
You're going to end up at SRWMD or the Florida Department of Environmental Protection (FDEP), and this chart save you time and voice mail figuring out which one.
Then Troy Roberts talked about Recreation.
If you go to https://www.mysuwanneeriver.com/59/Recreation and click on the map, it will lead you to a full-screen interactive map. Then click on Filter Activities towards the upper right corner. That gets you the list of types of activities he is displaying in the above picture. You can use that list to narrow down the types of District lands you're looking for.
Or just pan and zoom (control + scroll), and click on a purple area.
Troy Roberts chose Falling Creek Falls Park, which has birding, hiking, biking, horse riding, ATV, picnicking, and photography.
That's north by northwest of Lake City, about half way to the Suwannee River at White Springs. We'll come back to that in the next blog post.
Meanwhile, I want to say I use these SRWMD recreation maps all the time, in helping plan paddle outings, and in working on our WWALS Suwannee River Water Trail (SRWT) online map and web pages. FYI, our SRWT materials incorporate all the public landings from the Florida State Parks Suwannee River Wilderness Trail. But our SRWT includes more public landings, for example in Dixie County, and especially upstream of White Springs into Georgia on the Suwannee River and throughout the Okefenokee National Wildlife Refuge. Our SRWT also includes historical information on bridges, fords, gauges, and other points of interest.
And a very useful reference for all this is SRWMD's Recreation maps.
I think you will also find those SRWMD maps useful and informative.
-jsq, John S. Quarterman, Suwannee RIVERKEEPER®
You can join this fun and work by becoming a WWALS member today!
https://wwals.net/donations/
Short Link: