Filed 28 August 2015 (PDF). -jsq
You can join this fun and work by becoming a WWALS member today!
---
STATE OF FLORIDA
DEPARTMENT OF ENVIRONMENTAL PROTECTION
WWALS Watershed Coalition, Inc.,

Petitioners,

vs.

SABAL TRAIL TRANSMISSION, LLC and

STATE OF FLORIDA DEPARTMENT OF

ENVIRONMENTAL PROTECTION,

Respondents.

:

:

:

:

:

:

:

:

:

:

:

OGC Case No.: 15-0468
Petition for Administrative Hearing:
Florida Department of
Environmental Protection's intent to issue Environmental Resource Permit
Petitioner:

WWALS Watershed Coalition, Inc.

P.O. Box 88

Hahira, GA 31632

wwalswatershed@gmail.com

WWALS Watershed Coalition Florida Inc.
Chris and Deanna Mericle
(386) 938-5943 or (321) 431-3204 or (386) 855-5096
7712 SW 32nd Lane
Jasper, FL 32052
mericle.deanna@gmail.com
cjmericle@gmail.com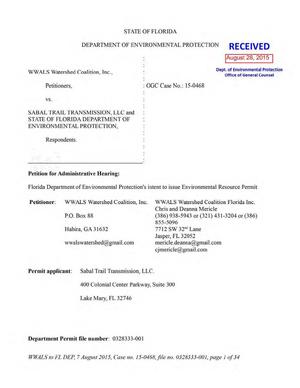 Permit applicant: Sabal Trail Transmission, LLC.
400 Colonial Center Parkway, Suite 300
Lake Mary, FL 32746
Department Permit file number: 0328333-001
Counties affected by the permitted activity: Hamilton, Suwannee, Gilchrist, Alachua, Levy, Citrus, Marion, Sumter, Lake, Polk, Orange, Osceola. Affected counties represented by WWALS: Hamilton, Suwannee, Madison.
Date Petitioner became aware Continue reading →