Cancelled on account of Withlacoochee River in flood after Hurricane Idalia, and our chainsaws don't work underwater, the Re-reschedule Retry Sugar Creek to Troupville Chainsaw Cleanup, Withlacoochee River 2023-09-02.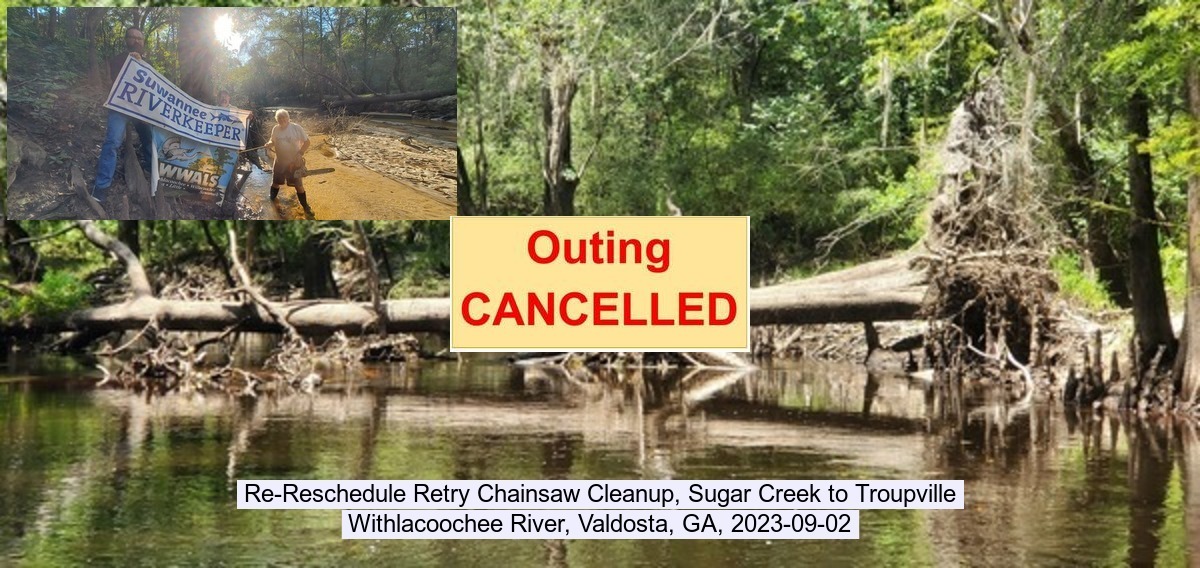 FB: Cancelled due to river flood levels after Hurricane Idalia
We will reschedule; new date to be announced.
The US 41 Withlacoochee River Gauge currently reads 124.42 feet. Our WWALS paddle recommendations are: Highest safe 12.7 feet, 123′ NAVD. Lowest boatable 5.7 feet, 116′ NAVD. And at the current level, the target deadfall is about eight feet underwater.

Valdosta US 41 (North Valdosta Road) Withlacoochee River Gauge
More: For more WWALS outings and events as they are posted, see the WWALS outings web page, https://wwals.net/outings/. WWALS members also get an upcoming list in the Tannin Times newsletter.
-jsq, John S. Quarterman, Suwannee RIVERKEEPER®
You can help with clean, swimmable, fishable, drinkable, water in the 10,000-square-mile Suwannee River Basin in Florida and Georgia by becoming a WWALS member today!
https://wwals.net/donations