Thanks again to GA-EPD Atlanta for rapid response to a request for an update on spills reported to them. They note that some spills due to the recent rains, including Valdosta's weekend multi-million-gallon spill, have not yet been reported to Atlanta.
This update does include a spill of raw sewage by the city of Quitman. I wonder, though, was it really 2 gallons? Or did they mean in units of thousands or millions? Also, Quitman is in the Suwannee River Basin, not the Ochlockonee River Basin.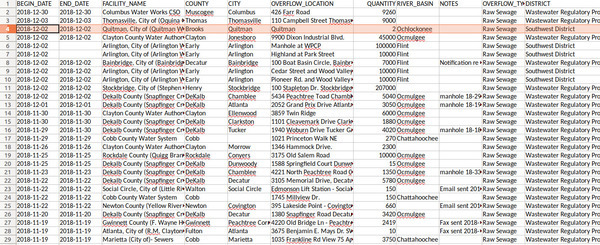 The past two weeks extracted from the GA-EPD update, sorted by begin date, and with the River Basin column shifted left for visibility.
Posting this data enables some debugging of the data such as Continue reading →