When I shared their press release on facebook last night, the best thing I could think of to say was: at least Valdosta told us as it is happening.
But why, Valdosta, why? Seriously, you're not prepared for rain?
After Hurricane Michael barely missed Valdosta?
After only two months ago Valdosta Utilities assured us all they were prepared?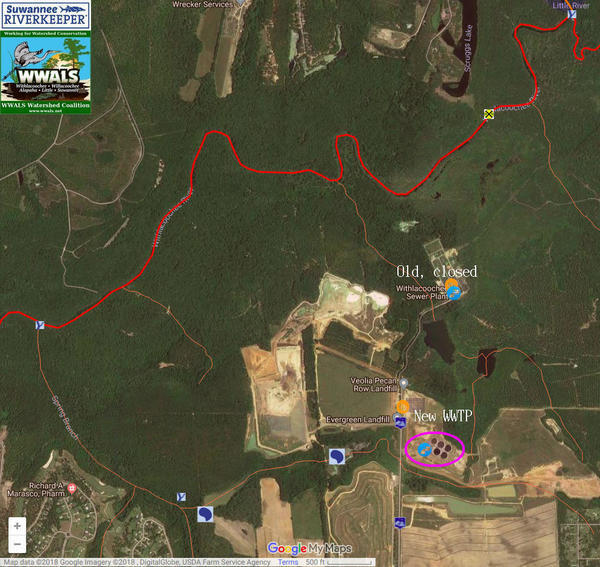 Map: WWALS, Withlacoochee and Little River Water Trail.
And in a rain that submerged US 84 near the Withlacoochee River Bridge and washed out Old Lake Park Road you're telling us nothing washed from the WWTP down the creek that goes directly to the Withlacoochee River?

Photo: WCTV, of Old Lake Park Road, Emma Wheeler, WCTV, 3 December 2018, Flooding causes road closures in Lowndes County.
I had a nice chat with a Valdosta City Council member last night, who told me Mayor and staff were on it. Well, Mayor who laughed when I told him how mad the Florida downstream counties are, why is this still happening? What about your own citizens who are already reporting sewage coming up in their yards? Aren't such spills and leaks what those tens of millions spent on a new WWTP, new force main, etc., were supposed to prevent?
Valdosta City Council meets this Thursday, December 6, 2018, at 5:30 PM at Valdosta City Hall, 216 East Central Avenue, Valdosta, Georgia. There's nothing on their agenda about this spill (yet). But they do have Citizens To Be Heard, in which anyone from anywhere can speak.
I imagine the eleven Florida counties in the Middle and Lower Suwannee River and Withlacoochee River Task Force will not be pleased by these latest Valdosta shenanigans.
It will be interesting to see what Valdosta reports in its weekly water quality testing for this week. That's the "River Sampling Program" mentioned in the press release. By reports, I mean WWALS sends an Open Records Request every Tuesday, expecting to get Valdosta's Wednesday testing data by Friday, and then WWALS posts that data. As I've suggested to Valdosta many times, they could just as easily post their own data.
It may well be that the sheer volume of rainwater overwhelmed anything spilled into the river. But it still got into the river. WWALS has started its own additional testing program, and you can help.
Let's not forget Valdosta is not the only organization with wastewater treatment facilities. What happened to Lowndes County's sewer system during this flooding that closed roads all over the county? What about Quitman, Adel, Tifton, Moultrie? I have asked GA-EPD for an updated spreadsheet of all spills reported to Atlanta. Your organization can still sign on to request GA-EPD to tell everyone when anyone spills.
At least I didn't have to use tweezers to extract this Valdosta press release. Thank you Ashlyn Becton for sending it via email 4:42 PM last night, Monday, December 3, 2018: Weekend Storm Results in Sewer Spill.
Over the weekend, The City of Valdosta and surrounding areas received more than 11 inches of rain during a storm event. During the storm, city infrastructure operated as designed. The Withlacoochee Plant is designed to have a normal capacity of13.5 MG per day with a peak average flow of 22.5 MG per day. In addition to that capacity, the city has also installed a surge tank to accept additional flows. As a result of unprecedented rainfall into the plant, the structures were overwhelmed. The current system has four processing units, although during normal operations the system only requires one. During this storm event, the Withlacoochee Plant was running all four units plus the excess flow equalization basin.


Valdosta's own rain gauges showed 9.41 inches. That's less than twice Valdosta's average monthly rainfall for June, July, or August. Should we expect more spills next summer? If Valdosta city infrastructure can't handle rain, its design is flawed.

On December 2, at approximately 6 p.m., the City of Valdosta's Withlacoochee Wastewater Treatment Plant identified a sewage spill. The spill was caused by the large amounts of rainfall received within a 24-hour period, which resulted in stormwater infiltration and inflow entering the sanitary sewer system and exceeding the capacity of the system.


The USGS Gauges at Skipper Bridge, US 41, and US 84 all showed less than ten incues of rain.

During the storm, the water spilled onto the city plant property, which is located over one and a half miles away from the banks of the Withlacoochee River, as well as into a nearby waterway. While the WWTP has a normal average daily flow of 3.5 million gallons (MG), this past weekend, the influent flow peaked at more than 32 MG—ten times the normal rate. Unfortunately, we will not be able to get an accurate number of gallons spilled until the water recedes from the plant.

Sewer spills are not acceptable at any time. It has been the city's top priority to prevent them all through the construction of the new WWTP and the Force Main, as well as the Lift Station Rehab Program, Smoke Testing Program, Annual Manhole Rehab Program, and the ongoing River Sampling Program that tests waters before, during and after major rain events.

The city continues its ongoing efforts to improve the infrastructure of the sewer system to eliminate these issues in the future. Improving our sewer system has and will continue to be a main priority. For more information, contact the Utilities Department Environmental Manager Scott Fowler at 229-259-3592 or sfowler@valdostacity.com.

Posted by Ashlyn Becton Monday, December 3, 2018 4:21:00 PM Categories: Environmental Press Release Public Information
-jsq, John S. Quarterman, Suwannee RIVERKEEPER®
You can join this fun and work by becoming a WWALS member today!
Short Link: