WWALS Watershed Coalition
FOR IMMEDIATE RELEASE
Veteran River Conservationist Gordon Rogers spoke to new WWALS Watershed Coalition
Adel, GA, 9 January 2013 — A local watershed group formed in June 2012, WWALS Watershed Coalition, invited Gordon Rogers, Flint Riverkeeper, to its first meeting of the new year to bring his experiences with the Altamaha, Satilla, and Flint Rivers to its conservation efforts on behalf of local blackwater rivers in south central Georgia.
Three newcomers, Garry Gentry, Dave Hetzel, Al Browning, Bret Wagenhorst, Gordon Rogers, Karan Rawlins, Gretchen Quarterman
WWALS is an advocacy organization working for watershed conservation of the Willacoochee, Withlacoochee, Alapaha, and Little River Systems watershed in south Georgia and north Florida through awareness, environmental monitoring, and citizen advocacy.
WWALS President Dave Hetzel noted, "Nobody has more experience with south Georgia rivers and streams of all kinds than Gordon; that's why I invited him to talk with us."
Gordon Rogers said, "I'm pleased to see the progress WWALS has already made, with its nine-member board from several counties, and its several public meetings already, in Adel, Valdosta, and Tifton. Back in May 2012 I said I'd help, and I continue to do so any way I can."
Bret Wagenhorst, Gordon Rogers, Karan Rawlins
WWALS Watershed Coalition, Inc. incorporated 8 June 2012. The WWALS board so far includes four people from each of the two biggest population centers, Lowndes County and Tift County, and one from Berrien County in between, ranging from farmer to financial consultant to elected official to invasive species researcher to ophthalmologist to college student.
Dave Hetzel (President), John S. Quarterman (VP), Brittney Hull (Treasurer), Nathan Wilkins (Secretary), Gretchen Quarterman, Bret Wagenhorst, Garry Gentry, Karan A. Rawlins, Al Browning.
Bret Wagenhorst, Nathan Wilkins, Karan Rawlins, Garry Gentry, Gretchen Quarterman, Dave Hetzel, John Quarterman, Brittney Hull (not pictured)
WWALS Vice President John S. Quarterman remarked, "Instead of a single big river like the Flint or Altamaha, our many small blackwater streams meander through cypress swamps and remnants of longleaf pine forests. Tannin from oak roots produces the tea color that is one of many attractive features of our streams."
Tom Baird from Florida drew a crowd at Valdosta State University 11 September 2012 for Big Little Water, presenting thousands of years of the history, geology and archaeology of the Withlacoochee River, with replica artifacts people could handle, hosted by Blazer Gardens of VSU.
WWALS' monthly board meetings are open to the public; speakers there have included foresters, people from state and federal environmental protection agencies, amateur water quality investigators, and others. Videos of those and other speakers are appearing on the WWALS YouTube channel.
Board member Bret Wagenhorst led WWALS boating on the Little River in Reed Bingham State Park, 21 October 2012. Native species identified included ogeechee limes, cypress, pines, Great Blue Heron, and alligator. Invasive species seen included hydrilla, water hyacinth, yellow water primrose, and elephant ear.
WWALS board member Karan Rawlins added, "WWALS uses smart-phone technology to investigate infestations by invasive species in our watersheds that can alter water quality and quantity and even contribute to flooding."
A well-attended WWALS Symposium in Tifton 22 September 2012 included talks by Neill Herring (lobbying), Helen Rogers (WATER MATTERS), Jesslyn Sheilds (GRN), Bret Wagenhorst (the economic and conservation benefits of water trails), Karan Rawlins (SEEDN smartphone invasive species reporting), and Dave Hetzel (about WWALS).
WWALS is a member of Georgia Water Coalition, and also attends other groups, such as WATER MATTERS, Georgia River Network, South Georgia Growing Local, and Center for a Sustainable Coast.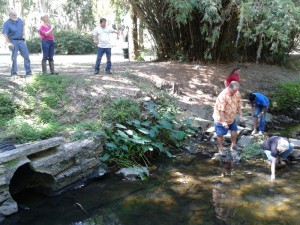 Angela Bray of the Southern Georgia Regional Commission (SGRC), assisted by Richard Battenn of SGRC and Al Browning, taught an Adopt-A-Stream water quality testing workshop Saturday 25 August 2012 in Valdosta.
WWALS board member Al Browning commended the group: "WWALS people passed the Adopt-A-Stream Water Quality Training last fall with flying colors, and are starting to use their new skills in monitoring water quality!"
The next six months' events start with a water testing outing on the Alapaha. WWALS welcomes people who want to work to conserve our blackwater streams!
WWALS Treasurer Brittney Hull said, "Soon we'll have a 501(c)(3) tax number, and we'll also be applying for grants. Water quality test kits and legal paperwork do cost money, and we welcome donations."
WWALS Secretary Nathan Wilkins reminded, "You can donate or sign up for events through the WWALS website, www.wwals.net. And don't forget to like the WWALS facebook page!"
Noted conservation writer (Ecology of a Cracker Childhood) and long-time river conservationist (Drifting into Darien) Janisse Ray will headline a fundraiser for WWALS at the Black Shank Pavilion in Tifton on May 11th.
Contact:
John S. Quarterman, Vice President
wwalswatershed at gmail.com
WWALS Watershed Coalition
3338 Country Club Road #L336
Valdosta, GA 31605
229-242-0102
www.wwals.net
###
Short Link: