Proposed for the WWALS January 2014 outing: the river most people know nothing about, from the convergence of Mud Swamp Creek where Grand Bay Creek forms the border between Lowndes County and Echols County in Georgia east of Valdosta, about 14 miles through Echols County between Lake Park and Statenville, to the Alapaha River in Hamilton County, Florida east of Jennings: the Alapahoochee River.
It has a waterfall, limestone caves, and boat ramps, all pictured by South Georgia Kayak Fishing 3 September 2011 in Alapahoochee convergence at Alapaha River – Jennings, FL.
Here's a brief day paddle description, Florida whitewater, Alapahoochee River Grand Bay Canal), by riverfacts.com:
Echols / Hamilton county, GA SR 135 to FL SR 150 on Alapaha section whitewater kayaking, rafting, and paddling information.

This stretch of Alapahoochee River Grand Bay Canal) in Echols / Hamilton County is 4.5 miles long and is according to American Whitewater a class II section of whitewater.
They include a map.
Here's a trip report on paddling.net for a 30-31 October 2010, Alapahoochee River – Kayak Trip / Canoe Trip, of the more difficult part of the river:
Five intrepid paddlers ran the Alapahoochee or whatever it is, Oct. 30 & 31, 2010. Water was low, but passable. Probably four to five feet of concrete showing above the surface on the pilings of the bridge on Rt. 376 in south Georgia.

A sense of adventure and humor were valuable assets to posses. Perhaps even more so than a paddle. Why, you ask? The forest canopies the river in beautiful arches along the entire run. The price you pay to enter this cathedral is that most of these lovely trees end their lives by falling across the very river they've shaded for so many years. We pulled through more branches than Cheetah and Tarzan ever did. Jack figured it had to be thirty fallen trees at least. I believe he boofed over all but two, but I may be mistaken. He's absolutely disgusting. The rest of us Troglodites had to see the river the old fashioned way, we EARNED it.
Florida's Suwannee River Water Management District provides a map of the Florida part and describes it as:
The Alapahoochee tract is a mix of hydric hammock, upland mixed forest, floodplain swamp/forest and mesic flat woods.

Wildlife species include deer, turkey, squirrel, and gopher tortoise.

Recreational Activities

The Alapahoochee tract is a primitive tract. The tract has a canoe launch; other allowable recreation opportunities are wildlife viewing, fishing, bicycling, hiking, and horseback riding on administrative roads.
There's no river gauge on the Alapahoochee, but there is one on the Alapaha River at Statenville, which currently shows 5.62 feet due to the recent rains. Flood stage is 24 feet, and it was up to more than that in March, July, and September, with a low of about 2 feet in November.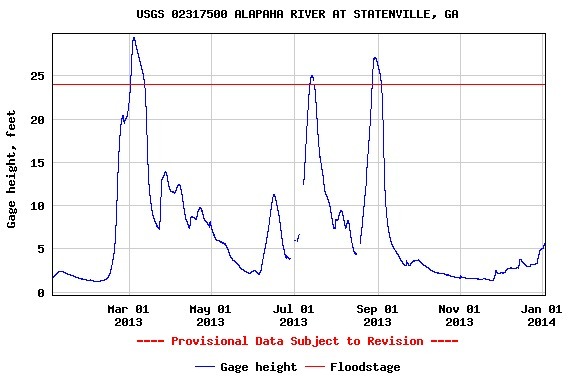 That's the Alapaha. We can guess the Alapahoochee follows a similar pattern.
-jsq
Short Link: