Update 3 March 2016: Suwannee River, ten rivers, and current location of USGS streamer.
The USGS Streamer interactive map shows all (well, most) tributaries of our two biggest WWALS rivers. Visitors sometimes refer to our "four rivers" since we only originally named four in our WWALS mission: Withlacoochee, Willacoochee, Alapaha, and Little. Yet we added the upper Suwannee, and there always were more than that: from one to ten rivers, depending on how you count them.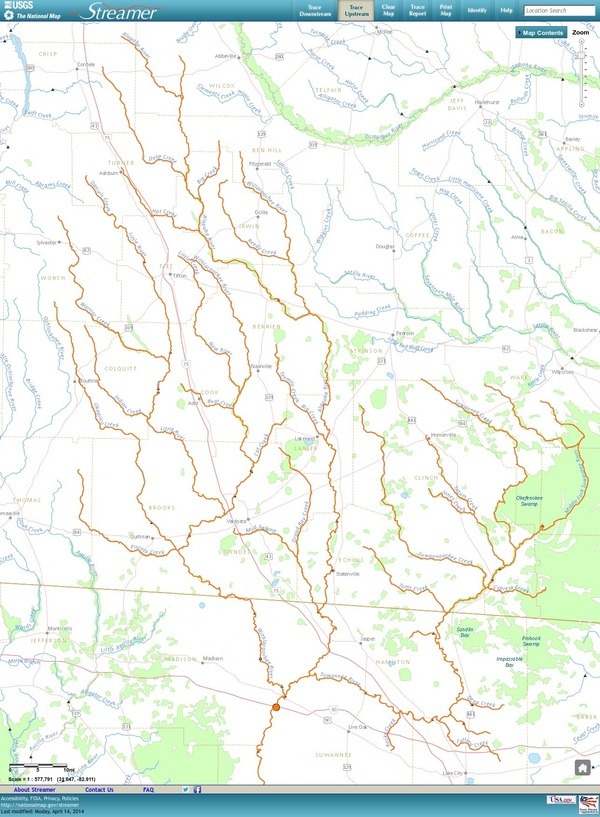 The Withlacoochee River tributary map here shows the New River south of Tifton joining the Withlacoochee between Nashville and Adel.
The New River is rather important, since it forms half of the boundary between Cook and Berrien Counties (the Withlacoochee River forms the other half):
Streamer never names the Alapahoochee River, which runs from the junction of Mud Swamp Creek and Grand Bay Creek about 14 miles to the Alapaha River. And it doesn't name the Dead River into which the Alapaha often flows backwards into a sinkhole. Streamer does name the Little Alapaha River, but doesn't show a trace for it, although it does appear in EPA MyWaters Mapper.
Then of course there's the S in WWALS, which since July 2015 stands for upper Suwannee, the river that connects the Alapaha and the Withlacoochee and starts in the Okefenokee Swamp:
And the Suwannee has a tributary that flows into the Okefenokee, the 31-mile-long Black River, entirely in Ware County southwest of Waycross: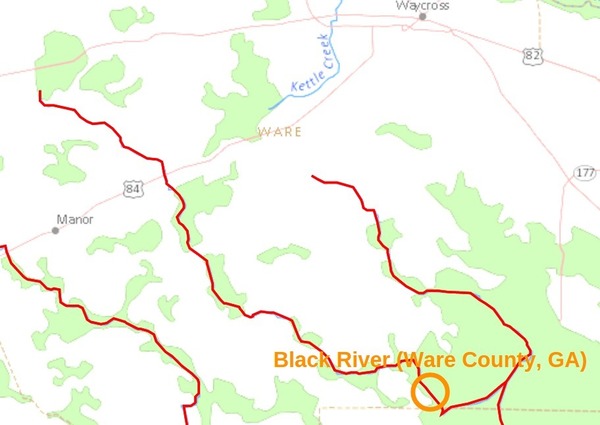 The Upper Suwannee Hydrologic Unit Code (HUC) includes, in addition to the Black River that runs into the west half of the Okefenokee Swamp, all the creeks that cross US 84 from there west: Big Alligator Creek, Little Alligator Creek, Greasy Branch, Suwannee Creek, Little Suwannee Creek, Box Creek in Argyll, Peters Branch, Cane Creek, Woodyard Creek in Homerville, and Suwannoochee Creek at DuPont. Also in Georgia, Tatum Creek, Toms Creek, and Cypress Creek. In Florida, Deep Creek, Falling Creek, Rocky Creek, Pinhook Swamp, and doubtless many other creeks, swamps, and bays in both states.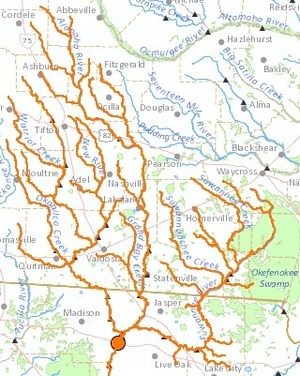 So the WWALS watersheds include, depending on how you count them:
The upper Suwannee, standing also for all its tributaries.
The three biggest rivers, the Suwannee, Withlacoochee, and Alapaha.
The four rivers originally named, Willacoochee flowing into Alapaha, and Little flowing into Withlacoochee, but now we must count Suwannee.
The ten rivers in our watersheds that have formal names:

New and Little Rivers flowing into the Withlacoochee;
Willacoochee, Alapahoochee, Dead, and Little Alapaha Rivers flowing into the Alapaha;
Black River like Withlacoochee and Alapaha flowing into the Suwannee River, which eventually makes its way to the Gulf of Mexico.
And WWALS isn't just about rivers; it's about the entire watersheds that flow into those rivers. Here's a map of all WWALS watersheds, containing all our rivers, creeks, swamps, lakes, and ponds: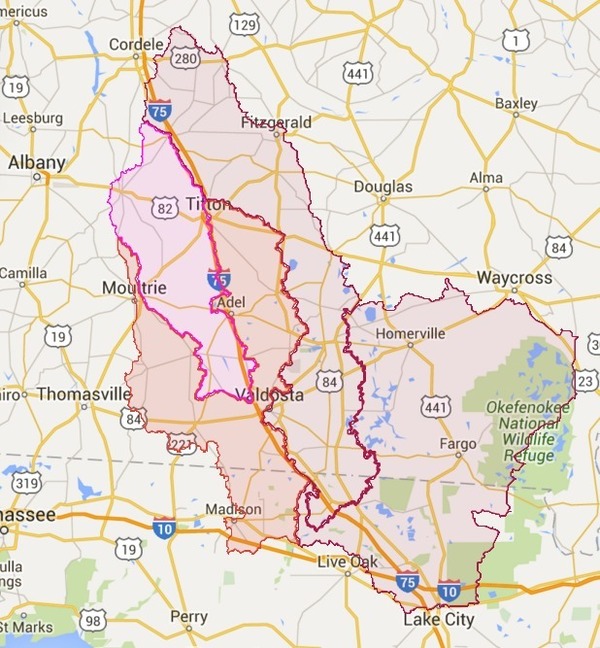 What's a river anyway?
At some points in history, Okapilco Creek has been called a river.
And our New River is not to be confused with Florida's New River, which flows in to the Santa Fe River, and thence into the Suwannee River.
Plus even though our Withlacoochee River flows into Florida, Florida has another Withlacoochee River starting north of Tampa that flows directly into the Gulf of Mexico. That one was apparently named after our Withlacoochee River, which Florida calls the Withlacoochee River (North).
Anyway, our WWALS watersheds include one to ten rivers, depending on how you count them, and many more creeks, swamps, seepage slopes, and the uplands that drain into them. Anything that runs downhill is likely to end up in one of our rivers. Or anything that paddles, which often includes us. Come join us!
-jsq
Short Link: