Thanks to Glenn Dowling of Georgia River Network for this flyer from the 1970s for an Alapaha River Trail on "Georgia's Cleanest River".
Front

CANOE GUIDE
to the
Alapaha
River Trail

GEORGIA'S CLEANEST
RIVER

GEORGIA
State of Adventure

Back

The Alapaha River runs through some of the most remote areas of South Georgia. For canoeing it has a difficulty rating of I. That is, it is considered an easy river to float. The Alapaha has high sand banks, bends frequently and has occasional small rapids with waves, regular and low, correct course is easy to find, but care is needed with minor obstacles like fallen trees, etc. A word of caution, the Alapaha during periods of high rainfall is swift and during periods of drought it may be neces- sary to pull the canoe over sandbars and portage around rapids.

There are four primitive campsites available for use by canoeists. Also available is a hunting preserve for bowhunters and trailer campsites.

Points to remember while canoeing the Alapaha are:

(1) Carry your litter out with you.

(2) Do not cut or damage living trees.

(3) Be extremely careful with campfires.

(4) Bring your camera.

If your group plans to canoe the entire 83—mile section, notify the Tourism Council in writing or by phone (912) 247-3454) the date you plan to put in and take out. This is imperative in order to qualify for the Alapaha Canoe Trail Award.

For further information contact:

Coastal Plain Area Tourism Council
Box 1223
Valdosta, GA.
Georgia
State of Adventure

Prepared by
Coastal Plain Area Planning and Development
Commission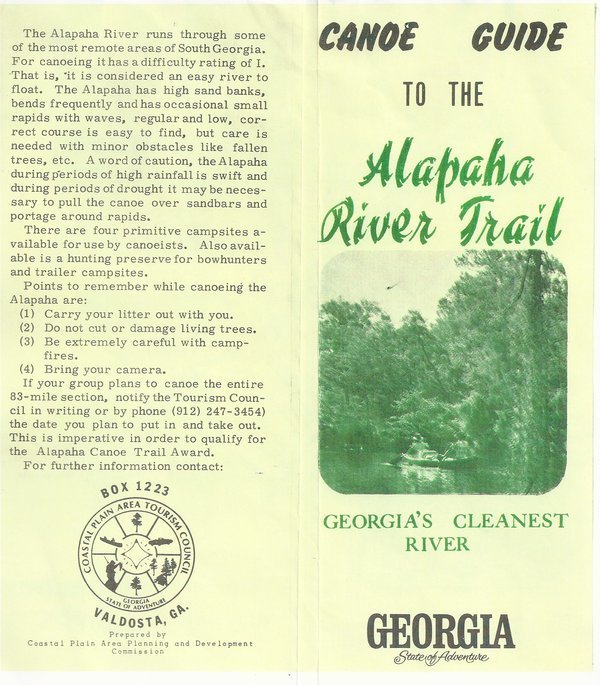 Front and Back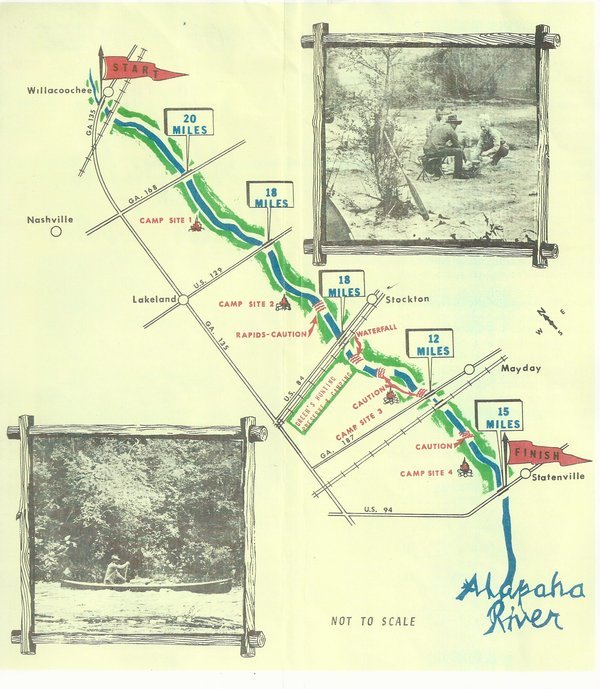 Map and Pictures
Here is a PDF made by scanning the physical copy of the old flyer that Glenn Dowling sent.
The only mention I can find for a Coastal Plain Area Tourism Council is Reflections on Georgia Politics Oral History Collection, ROGP 094 Ford Spinks,
Ford B. Spinks was born in Tifton, Georgia on April 5, 1927. In 1962, he ran a successful campaign twice — due to reapportionment — for Georgia State Senate. He continued in the Georgia Senate, and served in many committees until leaving the senate in 1971. He supported Jimmy Carter through many campaigns, and was appointed public service commissioner in 1971, a post he held until 1989. Outside of politics, he was a farm equipment dealer and served as director of the Bank of Tifton and chairman of the Coastal Plain Area Tourism Council.
He is listed by the Georgia PSC as a Past Commissioner, 1971-1988 who also has served as Chairman. ABAC lists him for 1997 in its Distinguished Alumnus Award. And he's listed by South Georgia Banking Company on its Board of Directors,
Ford B. Spinks, Sr.
Retired Public Service Commissioner
Maybe Ford B. Spinks, Sr. can tell us more about this previous Alapaha River Trail.
There are more mentions online of the Coastal Plain Area Planning and Development Commission, such as multiple references to a 91-page 1976 book by that Commission,
Remembered Places, Leftover Pieces of the Coastal Plain Area
But no mention of an Alapaha River Trail found with that Commmission, and it's not clear such a Commission still exists or when it vanished.
There is a mention in Brown's Guide to Georgia of
A good camping spot that was formerly a designated stop along the Alapaha Canoe Trail sits a little over two hours below access point F on the river-right bluff.
I'm guessing that's Camp Site 4 on the 1970s Alapaha River Trail map.
How old is that map? Obviously before 2001, because of the 912 telephone area code. But the text apparently composed on a typewriter argues for much earlier than that.
You could argue because of the lack of a CIP code it's before 1963 when ZIP codes were introduced or before 1967 when they were made mandatory for second and third class mailers, but it's not clear that this flyer was intended to be mailed, and besides, that's a return address for the Commission. Not to mention lots of people still didn't use ZIP codes for some time after they were supposedly mandatory, which is why USPS invented Mr. Zip to promote its use.
Joseph Stromberg wrote for Smithsonian Magazine 15 November 2011, Mr. Zip and the Brand-New ZIP Code: When the Post Office debuted the ZIP Code, they introduced a friendly cartoon to be its lead salesman,
Gradually the public caught on. "It took a little while—they didn't hit a high percentage of people doing it for a couple of years—but they finally did get people convinced," [National Postal Museum curator Nancy] Pope says. By the late 1970s, the vast majority of mail users were comfortable using the numbers, and Mr. Zip was gradually phased out.
So some time in the 1970s would seem likely for this flyer.
Anyone who knows a more specific date or other information about this 1970s Alapaha River Trail, please let us know.
-jsq
Short Link: